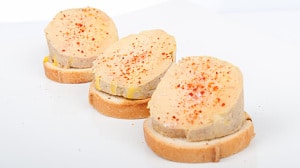 Recipe: Foie gras flavored with gingerbread
Recipe for gingerbread-flavored foie gras, I've been asking for a foie gras and gingerbread for a long time, this time I included the gingerbread spices directly in my foie gras. I can't wait to taste. Foie gras at home is an institution we eat it all year round, but it's still the highlight at Christmas. Here with a new flavor, the gingerbread in the heart of the foie gras, I'm also testing a new version of foie gras, but I'll tell you more about it when I'm ready. Foie gras flavored with gingerbread, a friend placed the order, and I like the slightly spicy taste of my foie gras.
Recipe ingredients
Gingerbread flavored foie gras recipe for 8 people:
1 lobe of duck foie gras 0.600 kg
2 tablespoons of armagnac
9.5 g fine salt
0.8 g white pepper
0.5 g of nutmeg,
0.5 g of ginger,
0.3 g of anise
0.5 g of cardamom,
0.5 g star anise
Instructions
Take the lob out for a quarter of an hour before stripping it.
Deveine the foie gras by starting with the large globe, then the smallest.
Weigh the salt and pepper and the spices.
Mix them.
Season the liver with the spicy preparation
Add the armagnac.
Mix with a wooden spoon, without heating the foie gras.
Mix so that no spices remain visible.
Place the foie gras in sausage form on cling film.
Wrap the sausage with the cling film, tightening the ends.
Tie each end by moving the liver on the inside to compress it well.
Film your foie gras several times, tying the ends each time and then cut the ends.
Boil a large volume of water, as soon as the water boils, stop the heat.
Place the foie gras. Cook for 15 to 18 minutes depending on the size of your sausages.
Cool in a large volume of cold water, cooled with ice cubes.
Leave to rest for a good week in the back of your refrigerator, before tasting.
Preparation time: 45 minutes
Cooking time: 18 minutes
Number of people: 1
4 star rating: 1 review
What wine to drink with gingerbread-flavored foie gras
What wine to drink with: Montbazillac Sémillon, Muscadelle, Sauvignon blanc
Temperature between 06 ° and 08 °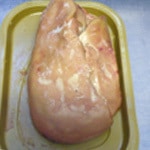 Temper the foie gras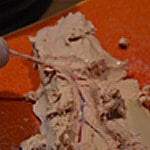 Awakening the foie gras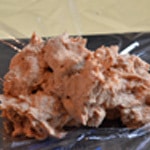 Ask on a film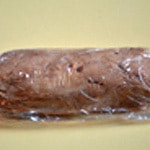 Tighten in the film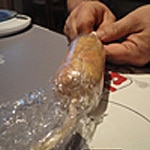 Tie the ends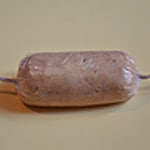 Ready for cooking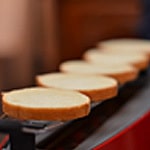 Toast the bread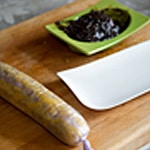 Figs Chutney