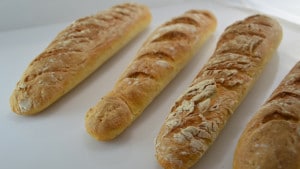 Recipe: homemade bread
Instructions
Homemade bread recipe, I've been making my bread for several months now, always a little proud to present my homemade bread. It's so easy to bake your homemade bread, it tastes great when it's fresh. After that it gets a little hard, but I just do my business for two days and freeze it fresh. I will offer you other recipes later as I try. It must be recognized that it represents a lot of testing before having this result. The objective was to make homemade bread with noble flour without using an expensive and above all bulky bread machine. I love the smell of the house when I bake bread. It reminds me of the smells that we used to find in the bakery. Today we no longer know what the baker takes to make these baguettes. Here no chemicals but natural products.

Recipe ingredients:
Bread recipe for 4 baguettes:
800 gr of type 55 flour
430 gr of water
16 gr of salt
1 cube of fresh baker's yeast
1 baguette baking sheet (recommended)
Instructions
Preheat the oven to 210 °
Mix lukewarm water at 20 ° with the baker's yeast.
Weigh the flour and mix with the salt.
Pour in the water and beat with a mixer on the 1st level for 15 minutes.
Lightly flour the bottom of a salad bowl.
Place the ball of dough in the floured bowl.
Cover with a clean tea towel.
Let stand and rise for an hour, near a heat source, radiator or sun.
Lightly flour the work surface.
Place the raised ball on the plane.
Cut into four pieces.
Roll the first dough with the flat of your hand, starting in the middle and going to the ends.
Flour the baking sheet.
Place the first tub and repeat the operation three times.
Lightly flour the top of the baguettes.
Cut a few notches on the top of the chopsticks.
Cover with the tea towel and let rise for at least an hour.
Bake in the middle of a hot oven for 10 minutes.
Lower the oven to 180 ° and continue cooking for 30 minutes.
Take out of the oven as soon as the baking is finished and let the homemade bread cool before eating it.
Preparation time: 120 minutes
Cooking time: 40 minutes
Number of people: 4 baguettes
4 star rating: 1 review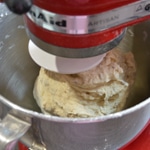 Beat the dough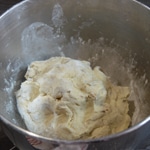 Let rest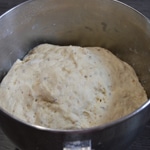 Raised dough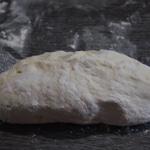 Make a patton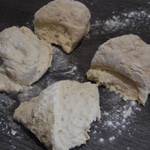 Cut into four equal parts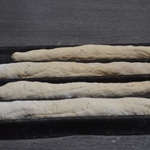 Let rise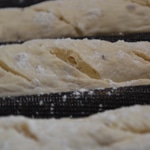 Score with a cutter
Zoom