Recipe: Venison terrine
Venison terrine recipe, it's one of our favorite starters in fall and winter. I like the preparation of the terrines, the moment when we prepare the marinade, but I also like the moment of salt, pepper and spices. Nothing better than a homemade terrine, deliciously flavored with Armagnac, the meat is perfumed for 24 hours to roast in the oven afterwards. Then finally comes the moment to taste this venison terrine.
Recipe ingredients
Recipe Venison terrine for 15 people:
800 g Boneless loin
800 g of throat
1 kg of venison
150 g of chicken liver
2 strips of fresh breast
4 tablespoons of Armagnac
60 cl of pinot blanc
10 peppercorns
1 clove
5 juniper berries.
16 g of salt per kilo of meat
2 g of pepper per kilo
1 nutmeg
Thyme
Laurel
Instructions
Prepare the marinade 24 hours before cooking the terrine.
Place the pieces of venison cut into large cubes with the pork.
Add the thyme, ten peppercorns, juniper berries, cloves.
Grate a nutmeg.
Pour in the white wine and Armagnac.
Stir the meat from time to time during the time of the marinade to soak all the pieces.
Cover with new cling film after each opening.
Leave to macerate in the refrigerator.
Drain the meats and dry them with a cloth or paper.
Chop the pork and the venison.
Chop the chicken livers.
Mix the venison and the pork and the chicken liver, the juniper, the nutmeg.
Salt and pepper.
Fill the terrines halfway.
Add the bacon strips.
Finish filling the terrines.
Lightly pack the seasoned meats in the terrine.
Smooth the surface with a spatula.
Preheat the oven to 180 ° C (th. 6), then put in the oven.
Let the terrine roast for 1 hour 30 minutes.
Compress the terrine for an hour.
Remove the weight from the terrine, it will rise and absorb the liquid jelly.
Preparation time: 40 minutes
Cooking time: 1 hour 30 minutes
Number of people: 8
4 star rating: 1 review
What wine to drink with: Venison terrine
My favorite wine for this recipe: Saint amour Cépage Gamay
Temperature between 12 ° and 14 °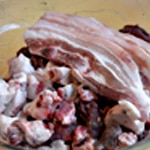 Slice the meat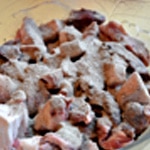 Salt and spice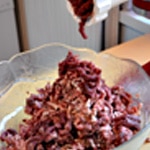 Chop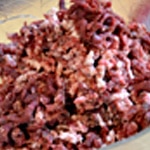 Zoom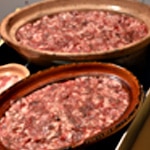 Fill the terrines
A few bay leaves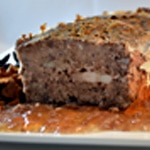 To be decided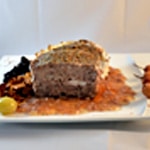 The venison terrine