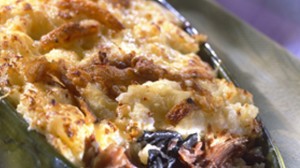 Recipe: Chicken Parmentier
Chicken Parmentier recipe, we still had some chicken that we had cooked on a spit. Children love the chicken Parmentier mince, adults also love a recipe to accommodate leftover chicken. Roast chicken recipe to make my Parmentier, the chicken was already cooked, so I added leeks to keep it soft. I mashed my potatoes with a little butter to make my mash.
Recipe ingredients
Chicken Parmentier recipe for 4 people:
300 g of chicken recipe
125 g lean smoked bacon
1 kg of potatoes
2 leeks
2 onions
2 cloves garlic
1 egg
1 bunch of parsley
80 g of butter + 10 g for the dish
40 g grated cheese
1 pinch of grated nutmeg
1 tablespoon of breadcrumbs
Salt pepper
Instructions
Rinse the parsley and chop it.
Remove the first leaves from the leeks, cut in half and rinse it.
Cut the leeks.
Peel the garlic and onions, then cut them finely.
Peel the potatoes and rinse them with clean water
Place the potatoes in a saucepan, cover with cold water.
Add salt and cook for about 18 to 20 minutes.
Crush the potatoes and add ¾ of the butter.
Grate the nutmeg, salt, drip, rectify.
Completely bone the chicken.
Chop the leftover chicken with a knife.
Heat a pan, add the bacon and let it grill a little.
Add the onion and garlic, then the parsley, to the pan.
Add the leek sections.
As soon as the onions are translucent, stop cooking.
Drain and adjust the seasoning.
Add the egg and stir to incorporate.
Butter a baking dish, pour in half of the mash.
Add the preparation to the meat.
Cover the meat with the rest of the mash to smooth the surface.
Sprinkle with breadcrumbs and scatter knobs of butter on the breadcrumbs.
Bake in a hot oven at 200 ° rotating heat for 30 minutes.
Preparation time: 15 minutes
Cooking time: 30 minutes
Number of people: 4
4 star rating: 1 review
What wine to drink with: Chicken Parmentier
My favorite wine for this recipe: Beaujolais Cépage Gamay
Temperature between 10 ° and 12 °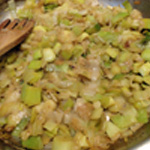 Sear the leeks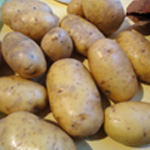 Wash the potatoes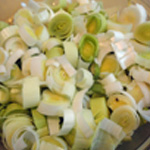 Cut the leeks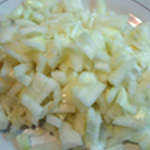 Slice the onions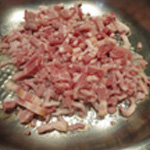 Cut the bacon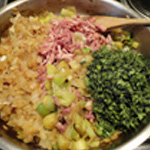 Mix the stuffing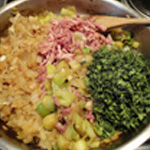 Salt and pepper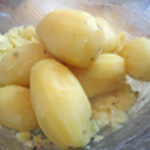 Peel the potatoes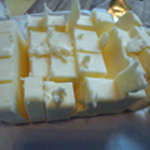 Cut the soft butter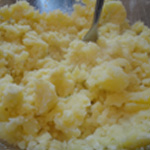 Crush the mash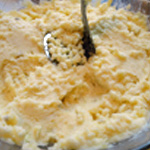 Again and again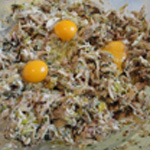 Add the eggs<img src="/wp-content/uploads/2021/09/7739165232374492223.jpg" class="aligncenter"