<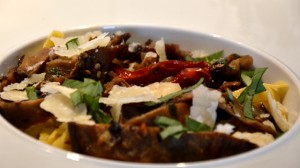 Recipe: Eggplant pasta
Eggplant pasta recipe, flavored with new purple garlic, a real treat, you will not be able to resist this pasta dish. Fresh pasta, at home we make it every week, and frankly we never tire. If you are lucky enough to have a food processor, use the hook to make your fresh homemade pasta. The pasta machine is very useful to save time.
Recipe ingredients
Eggplant pasta recipe for 4 people:
500 g of grilled eggplants (I was in a bit of a hurry I took them frozen)
2 new purple garlic cloves
400 g of fresh tagliatelle
3 tablespoons of olive oil
250 g of sundried tomatoes in olive oil
100 g of Parmesan to grate
½ bunch of basil
Instructions
Rinse and dry the basil, then finely chop it with a knife.
Slice the eggplants into strips and then the other way around.
Peel the garlic then cut it finely.
Heat a pan with the oil and add the garlic.
Sear the eggplants in the garlic oil.
Cut the tomatoes lengthwise.
Add the tomatoes to the eggplants.
Salt and pepper.
Heat the salted water for the tagliatelle.
Cook the tagliatelle for a few minutes.
Drain the tagliatelle.
Pour 2 tablespoons of tomato oil over the tagliatelle.
Heat the plates, then place the tagliatelle on each plate.
Distribute the eggplants and tomatoes on each plate.
Grate the Parmesan directly onto the plate.
Preparation time: 20 minute (s)
Cooking time: 10 minute (s)
Number of people: 4
4 star rating: 1 review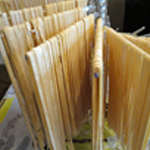 Dry the tagliatelle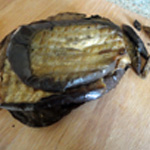 Grill the eggplants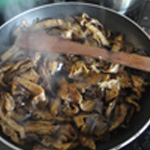 Add the eggplants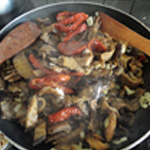 Add the sundried tomatoes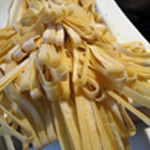 Cook the tagliatelle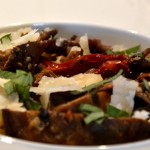 What wine to drink with: eggplant pasta
My favorite wine for this recipe: Canon fronsac rouge Cépage Merlot, cabernet francs; Cabernet sauvignon Temperature between 15 ° and 17 °