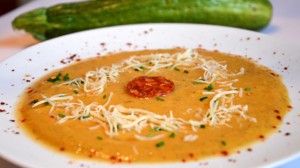 Recipe: Zucchini and chorizo soup
Zucchini chorizo soup recipe, here is a soup with character depending on the choice you make with the mild or strong chorizo, be careful when cooking the chorizo, its taste is amplified by heating. I loved this soup with the pronounced taste of chorizo and the roasted zucchini in the fat el diablo of the chorizo. Just a little cheese to sweeten it, a garden soup with all the zucchini.
Recipe ingredients
Recipe Zucchini and chorizo soup for 4 people:
1 courgette of 700 g
½ sweet chorizo, about 150 gr more or less depending on the desired taste
3 small cloves of garlic
2 shallots
½ bunch of parsley
50 g cheese with walnuts
Instructions
Rinse the zucchini, then cut it finely.
Rinse the parsley under running water, then dry it with food paper.
Peel the shallots and garlic.
Finely chop the garlic, shallots and parsley.
Slice the chorizo lengthwise, then into cubes.
Heat a saucepan with the chorizo on a low heat.
Stir the chorizo so that it does not burn.
Reserve the chorizo once it has shed its fat.
Sear the zucchini and garlic in the chorizo fat.
Let the zucchini brown well.
Add the parsleyed shallots.
Add the cheese.
Cover with water and cook for 30 minutes.
Mix, taste and adjust the seasoning.
Preparation time: 20 minutes
Cooking time: 30 minutes
Number of people: 4
4 star rating: 1 review
What wine to drink with: Zucchini and chorizo soup
My favorite wine for this recipe: Chinon rouge Grape Cabernet Franc
Temperature between 16 ° and 17 °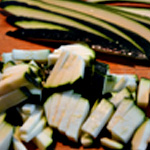 Cut the zucchini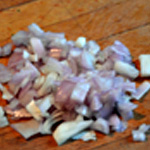 Peel then chop the shallot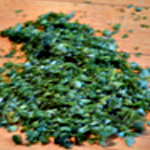 Rinse then chop the parsley
Slice the chorizo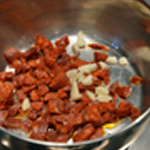 Sear over low heat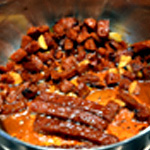 Do not let it burn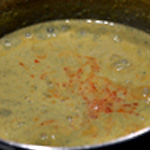 Mix with the chorizo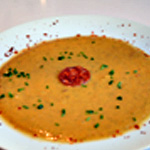 Zoom