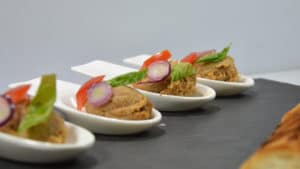 Chicken rillettes recipe
Summary: I had my brother who came to eat at the house, the aperitifs always last a little with him. I decided to make quick rillettes for the aperitif, especially no fish rillettes, they are not fond of them, a glance in the fridge, bacon and chicken will do the trick. I like these convivial moments where we spread rillettes on a piece of toast as an aperitif, everyone will cover more or less these toast. My chicken rillettes were very tasty, they simmered for just two hours, for me they were not fatty enough, I could have added a little goose fat. Chicken rillettes lend in two hours ideal for an aperitif under the trees in summer.
Chicken rillettes recipe for 12 people:
Ingredients
300 gr of bacon
200 gr of chicken breast
2 bay leaves
1/1 tablespoon harissa
5 stems of coriander
½ teaspoon ground ginger
Salt and pepper
25 cl of white Jura rib
Instructions
Peel the onion, then cut it in 4, finely slice a quarter.
Sear the bacon in a very hot pan, leave to color.
Add the onions.
Cut the chicken into small cubes.
Sear the chicken with the bacon when they are well colored.
Add the coarsely chopped cilantro
Cover with white wine and simmer for 2 hours.
Mix more or less depending on what you are looking for.
Cool in the refrigerator.
Preparation time: 30 minutes
Cooking time: 120 minutes
Number of people: 12
4 star rating: 1 review
What wine to drink with: chicken rillettes
My favorite wine for this recipe: Côte du Jura Cépage Savagnin and
Temperature between 08 ° and 10 °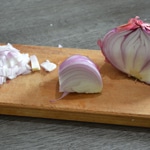 Peel the garlic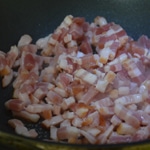 Sear the bacon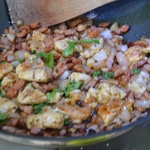 Cook the chicken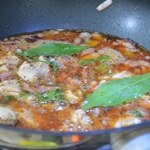 Let it be for now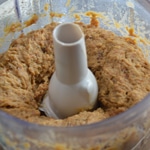 Mixer