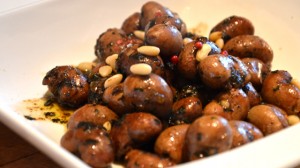 Recipe: Appetizer rabbit kidneys
Recipe for rabbit kidneys aperitif, ideal for a dinner aperitif, these small grilled kidneys can accompany a very fruity white. Ready in a few minutes, the kidneys of rabbits will surprise more than one as an aperitif, the only downside, it is not easy to find, we are lucky the Leclerc de Pusey has them regularly. Just served with a few wooden picks, everyone will suit their tastes, children and adults alike, I can confirm that rabbit kidneys are everyone's business.
Recipe ingredients
Recipe of rabbit kidneys aperitif for 4 people:
300 g of rabbit kidneys
20 g butter
1 teaspoon of olive oil.
1 shallot
10 sprigs of parsley
2 cloves garlic
Salt and pepper
1 tablespoon of pine nuts
1 tablespoon of cognac
Instructions
Finish decorating the rabbit kidneys, removing the small traces of fat on the kidney.
Peel the shallot then finely chop it.
Peel the garlic and crush it with a garlic press.
Rinse the parsley with clean water, then dry with food paper.
Finely chop the parsley, adding the garlic and shallot.
Heat a pan with the butter and olive oil.
Throw in the parsley with the shallot and garlic, let the shallot pieces become translucent.
Grill the rabbit kidneys in the hot fat for a few minutes.
Shake the pan regularly so that the kidneys grill well all over.
Pour the cognac into the hot pan as soon as the kidneys are cooked.
Sow pine nuts
Flambé immediately and serve.
Preparation time: 15 minutes
Number of people: 4
Cooking time: 4 to 5 minutes
4 star rating: 1 review
What wine to drink with: Rabbit kidneys aperitif
My favorite wine for this recipe: Grave blanc Cépage Sévignon, Sauvignon blanc, Muscadelle,
Temperature between 08 ° and 10 °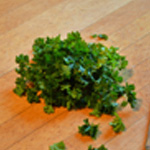 Rinse the parsley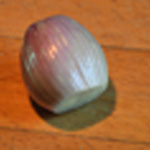 Peel the shallot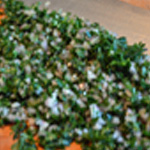 Chop parsley and shallot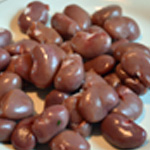 Trim the kidneys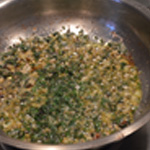 Sear the shallots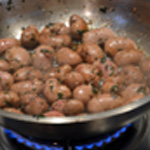 Grill the kidneys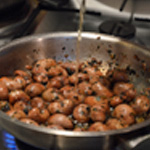 Pour the alcohol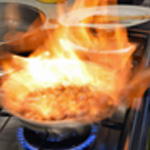 Blaze