Recipe: Chicken brochettes
Chicken skewers recipe, for this recipe I had half a sweet chorizo left. I decided to pair it with the chicken. We loved this marinade for the chicken, a little spicy, but above all not spicy, which enhanced the flavor and color of these sunny skewers. With chicken the cooking time is very short, in fact, be careful, the chicken must not be overcooked, in order to remain soft and tender, but not pink. Once tested, these chicken skewers will be adopted by the whole family.
Recipe ingredients
Recipe Chicken brochettes 4 people:
4 fillets
8 cherry tomatoes
¼ green pepper
1 tablespoon of olive oil
1 tablespoon of ketchup
1 tablespoon of basil vinegar
1 teaspoon of honey
½ mild chorizo
Salt and pepper
4 wooden picks
Instructions
Combine the ingredients for the sauce with the olive oil in a bowl.
Cut the chicken fillet into strips, then into small cubes.
Cut the green pepper into cubes.
Cut the chorizo into thin slices.
Prick a cherry tomato.
Add a cube of chicken, then a slice of chorizo.
Repeat three times with the chicken and chorizo.
Then a piece of green pepper.
Add a cube of chicken, then a slice of chorizo.
Add the cherry tomato.
Liberally brush the chicken brochettes with the prepared marinade.
Cook under high heat, but if possible not directly under the flame.
Preparation time: 10 minutes
Cooking time: 4 minutes
Number of people: 4
4 star rating: 1 review
What wine to drink with: Chicken brochettes
My favorite wine for this recipe: Collioure rosés Grape Grenache noir; Cinsault; Carignan
Temperature between 10 ° and 12 °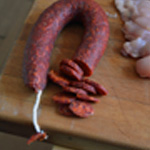 Slice the chorizo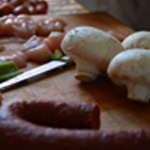 Cut the pepper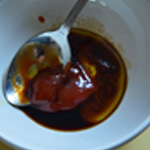 Prepare the sauce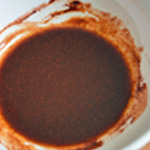 Bind the sauce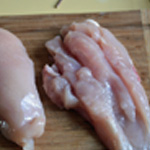 Slice the fillet lengthwise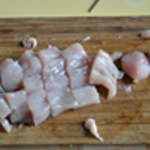 Cut into cubes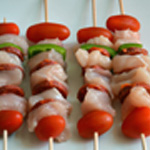 Assemble the skewers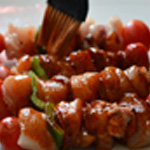 Brush