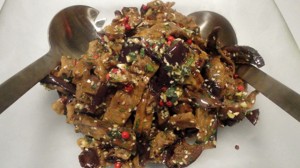 Recipe: Eggplant salad
Eggplant salad recipe with the appearance of the sun, here is a very Mediterranean recipe, I used grilled and frozen eggplants. Grilled eggplants marinated in olive oil and seasoned with a hint of fresh garlic. An ideal starter to enjoy a barbecue, frozen eggplants lend themselves very well to this recipe, friends of course you can grill the eggplants on a barbecue. The best would be to prepare the eggplant in a salad the day before so that it marinates for a few hours.
Recipe ingredients
Eggplant salad recipe for 6 people:
600 gr grilled eggplants (use frozen and grilled)
90 gr of dried tomatoes in oil.
2 small red onions.
2 cloves garlic
4 tablespoons of extra virgin olive oil.
½ bunch of basil.
Salt and pepper
Instructions
Cut the eggplants into strips, then grill them in the oven, I took them frozen and already grilled.
Cut the eggplant strips into sections.
Drizzle copiously with the eggplant.
Peel the red onions and garlic, then finely chop them.
Add the chopped onions, garlic, and eggplant.
Cut the dried tomatoes in oil into small cubes, then add them to the eggplants.
Stir and let the eggplant soak in oil.
Salt and pepper.
Rinse the basil then dry it with food paper.
Chop the basil with a knife, then sow it over the eggplants.
Sow the sesame seeds.
Stir the preparation well.
Let stand for at least an hour, I left it in the fridge overnight.
Preparation time: 20 minutes
Cooking time: 0 minutes
Number of people: 6
4 star rating: 1 review
What wine to drink with: Eggplant salad
My favorite wine for this recipe: Côtes de Provence white Grape Vermentinos; Ugni blanc; Clairette white
Temperature between 08 ° and 10 °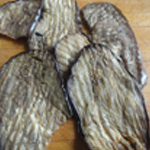 Cut into slices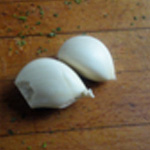 Peel the garlic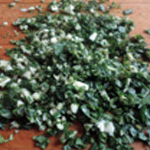 Chop fine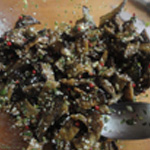 Mix the salad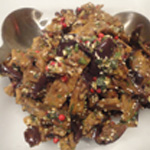 Zoom