Domaine de gry-Sablon
In 1900, it all started with Mr. Besson, great-grandfather of Dominique Morel who settled in Emeringes, on a small 2 hectare estate, he set up a distillery and cooperage. Known and recognized by winegrowers, in fact it will be rewarded with the glorious and renowned Lépine competition, a bronze medal for its invention, the first filter press. A great start for this family of winegrowers for over 100 years.

In 1910 Lépine competition
In 1967, father Albert Morel took over, the estate doubled and produced two vintages: Fleurie and Beaujolais village.
In 1991 Dominique finished his oenology studies, he added a new appellation to the Juliénas estate.
In 1999 Dominique and his wife took over the estate from Christine Morel's mother, M, with his two crus Régnié and Morgon.
In 2005, 3 new appellations joined the estate, Saint Amour, White Beaujolais-Villages and White Burgundy.
In 2011 it is the first harvest of the Moulin à vent cru.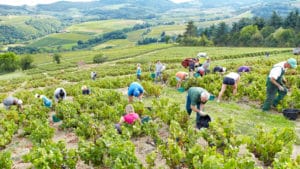 Today the estate covers more than 18 hectares with 12 vintages, here is a beautiful story of a family born in the vineyard, which today enjoys an international reputation. If most of the Gry-Sablon estate is on hillsides bathed and caressed by the sun, here the cultivation work is manual; this vineyard is managed in a sustainable way and everything is done to stimulate the natural defenses of the vine. Of course in this beautiful estate the harvest is manual and the grapes are sorted on the sorting table before arriving at the winery.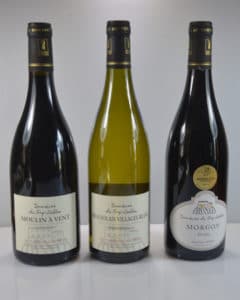 Windmill:
Surely the most distinguished of Beaujolais, it is above all the oldest appellation of Beaujolais. With its aromas of black fruits (black cherries) and flowers (violets) to finish with a spicy note, we like as soon as we release the wine. Its very dark carmine color, with the first drops in the glass or a few tears in the glass, this Beaujolais cru leaves no one indifferent. I like this slightly velvety wine on the palate with its barely full-bodied character.
Beaujolais white:
For a few years now Christine and Dominique have bet on the adventure of white, in a region where red reigns supreme. With a bright and limpid light yellow color, the first drops in the glass immediately call out to us. This subtle fruity nectar, a few touches of white flowers (hawthorns, a little acacia) and a final touch of vanilla, it combines substance and freshness, in a balance that results in roundness.
Morgon Douby:
Full-bodied and full-bodied wine but very harmonious, with a very crunchy juice and a dark purple color with some purplish reflections. Immediately, it is a flavor of kirch or morello cherry, then red fruits (even black) dominate and finally a few nuances of very ripe blackcurrant. Its tannic mouth reveals some aromas of vanilla, you will love this Beaujolais wine.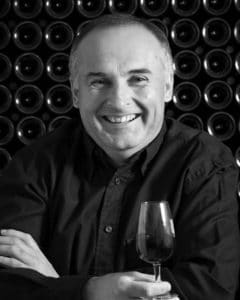 Domaine de Gry-Sablon in Emeringes in the Rhône
Dominique morel
The Chavannes
69840 Emeringes
Phone: 04 74 04 45 35
Email: contact@gry-sablon.com
Shops and prices.