Zucchini Chickpea Salad Recipe
I love chickpeas, in salads, hot or cold, as a starter or as a garnish; I have a great time with each recipe and it worked with this Zucchini Chickpea Salad recipe. It's a beautiful recipe full of colors, with different flavors. It stings a little at first, then the mint takes over for this Chickpea Salad with Zucchini. I use Gomashio more and more, this product that comes directly from Japan, it allows to considerably reduce the salt, it's good for our arteries and it's good especially with raw vegetables, including this chickpea salad with courgette. This beautiful salad goes wonderfully with a barbecue, but you still have to have good weather. Good at Yves we are safe, but you still needed a little wool, even a big one.
Zucchini Chickpea Salad Recipe for 6 people
Ingredients
500g of dried chickpeas
2 small zucchini
1 onion
3 tablespoons of oil for the zucchini
15 drops of Tabasco
2 tablespoons of Gomashio
1 organic lemon
50 g of sundried tomatoes
5 tablespoons of olive oil for the chickpeas
4 sprigs of mint
10 g of fresh ginger
1 tablespoon of caraway seed
Instructions
Let the chickpeas soak from the day before.
Drain the chickpeas the next day.
Peel the onion, then mince it finely.
Cook the chickpeas in a large volume of salted water: cook for 1 hour.
Wash then cut the zucchini into very small cubes.
Heat the oil and sear the zucchini for a few minutes (they must remain crunchy).
Pour the chickpeas into a salad bowl.
Heat a small saucepan of water and blanch the sundried tomatoes for 5 minutes.
Let the tomatoes cool, then cut them finely.
Pour in the lime juice.
Grate the fresh ginger.
Rinse the mint with clean water, then dry it with paper towels.
Finely chop it and add it to the salad.
Zest the organic lemon directly on the chickpeas.
Squeeze the juice from the lemon and put it on the chickpeas, add the tomatoes.
Add the caraway and sprinkle the Gomashio over the salad.
Taste, salt and pepper.
Preparation time: 40 minutes
Cooking time: 60 minutes
Number of people: 6
4 star rating: 1 review (s)
What wine to drink with: Recipe Chickpea salad with zucchini
My favorite wine for this recipe Rosé wine from Corsica Grape varieties: Nielluccio
Temperature between 08 ° and 10 °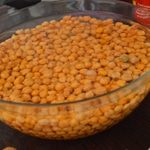 Soak the peas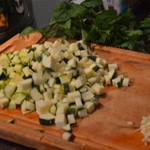 Slice the zucchini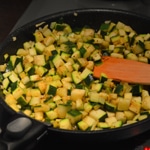 Sear the zucchini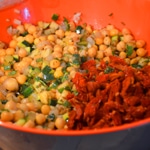 Add the tomatoes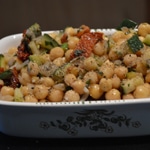 Zoom