Corn Chili Con Carne Recipe
It's the weekend of May 1st and, as planned, I'm at Yves and Florence's to start the terrace. We chose full meals at noon, quick things in a single dish. So at noon, it was Chili Con Carne with Corn. Me, Chili con carne au corn, it has to be spiced up. Mexican cuisine is spicy, well I have been good and not everyone can stand chili peppers. Me neither moreover… and yet I love… At noon it is hot and we have already worked well this morning. However, at the aperitif nobody thought of taking out a Tequila to accompany this Chili con carne with corn. Okay, I'm abusing it, but at least for the aperitif. In any case, we took a lot of pleasure during the tasting of this meal from across the Atlantic, it almost makes you want to visit this country that I do not know.
Corn Chili con carne recipe for 10 people
Ingredients
900 g of beef in the round of heel
500 g of dried red beans
280 g drained corn (can)
2 tablespoons of olive oil
1 + ½ can of peeled tomatoes
2 tablespoons of brown sugar
2 red onions
3 cloves of garlic
1 small red pepper
1 small green pepper
1 red pepper
1 green pepper
2 tablespoons of chili
2 bird's eye chillies
15 drops of Tabasco
1 teaspoon ground cumin
1 teaspoon of coriander seeds
3 tablespoons of olive oil.
Instructions
Soak the kidney beans in water overnight.
Drain and rinse them.
Cook the beans in 3 parts unsalted water.
Simmer gently for 3 minutes, then change the water.
Start again, leaving them to cook for 1 hour 30 minutes (be careful, the chili must cook for one hour).
Peel then finely mince the red onions and garlic.
Rinse the peppers, then cut them into small square cubes.
Slice the beef (or have your butcher do it) into small 1/2 cm cubes.
Heat a cast iron casserole dish with the oil.
Add the meat.
Sprinkle with the chili then the cumin.
Mash the cilantro, then add it to the meat.
Clear the center of the casserole dish, then add the onion and garlic.
Leave barely brown, then mix with the meat.
Add the peppers and the peeled tomato.
Pour in the Tabasco and add the whole peppers.
Add the bird's eye chili peppers.
Season generously with salt and pepper.
Leave to cook for 2 short hours.
10 minutes before serving, add the drained and rinsed corn.
Preparation time: 40 minutes
Cooking time: 120 minutes
Number of people: 10
4 star rating: 1 review
What wine to drink with: Corn Chili Con Carne Recipe
My favorite wine for this Nuit Saint Georges recipe Grape varieties: Pinot noir
Temperature between 15 ° and 18 °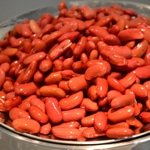 Soak the beans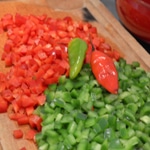 Slice the peppers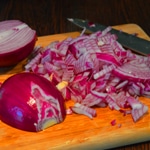 Peel then chop the red onion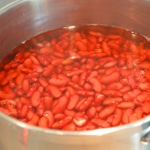 Cook the beans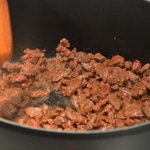 Sear the meat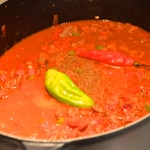 Add the chillies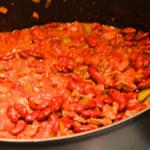 Let it be for now
Zoom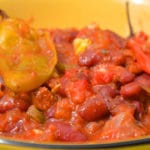 </p