Chilli Butter Shrimp Recipe
Instructions
I found some nice shrimp in promotions, so in the stove I have chili peppers from the market and let's go for Chilli Shrimps. I love cooking with chili, this shrimp recipe with chili butter goes wonderfully, we could classify it in the easy cooking theme. I like to feel the prawns simmer in my pan or even on the barbecue, here flavored with chili, I loved the shrimp with chili butter. For a few years now, shrimps have been plentiful on the shelves of fishmongers, it's almost a bit scary, but Mother Nature is generous, but just when
Recipe Chilli butter shrimps for 4 people
Ingredients:
600 g shelled prawns
1 lime
1 tablespoon of olive oil
60 g butter
4 sweet bird peppers, to reduce in a mortar
30 g chives
Summary :
Crush the 4 bird peppers with a mortar (1 per person).
Melt the butter in a bowl and put the peppers in the butter and let marinate for at least an hour.
Shell the shrimp and slit them from the back lengthwise.
Remove the hose.
Wipe the shrimp with paper towels.
Squeeze the lime juice directly over the shrimp
Sear the shrimp in a hot pan with the chili butter and a tablespoon of olive oil.
Let them color.
Salt and pepper.
Heat the butter, be careful not to burn it.
Pour it over the shrimp.
Chop then add the chives.
Leave for a few more seconds on the heat.
Serve on hot plates.
Preparation time: 15 minutes
Cooking time: 5 minutes
Number of people: 4
4 star rating: 1 review
What wine to drink with Chilli Butter Shrimps
My favorite wine for this recipe Condrieu (White) Grapes Viognier
Temperature between 8 ° and 10 °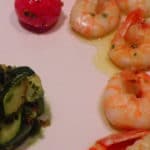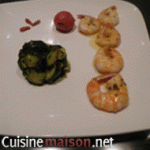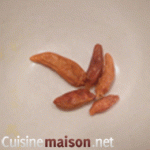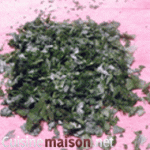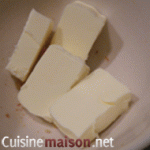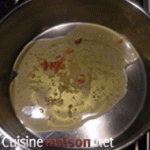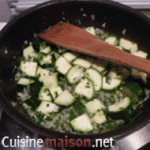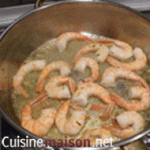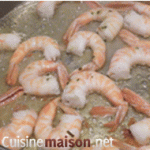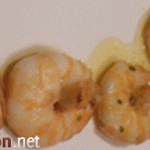 More recipes:
Sweet Pepper Shrimps

Sea bream fillet with chili and lime

Tagliatelle with prawns

Aperitif shrimps
butter
prawns
bird's eye chili Pascal
Hide reactions

Thank you to our friend Pascal for making us discover this subtle marriage of shrimp and chili. A small note of warmth at the first bite which – after the finished entry – lasts a few moments. A new and very pleasant feeling

too too good !!!! surprising even I served them with wild rice !!!! it caused a sensation !!!

to test !!! kisses
Your reactions / questions / tips: Cancel reply
Remark
Name *
Email *
Website
</p