Recipe: wild garlic and parmesan puff pastry
Wild garlic and Parmesan puff pastry recipe ideal for a dinner aperitif, you will love this puff pastry full of character. I still had some pesto left over from last year, one year in my fridge nature is mighty. A beautiful green color with this homemade pesto just a little olive oil to preserve it. I love the moment when we pick this plant in the woods, the heat begins to be felt, the train has taken on a delicious smell with the garlic which has reached maturity. The buds are swollen ready to hatch, I also get some, it's a beautiful afternoon in the woods.
Recipe ingredients
Wild garlic and parmesan puff pastry recipe for 20 tarts:
1 puff pastry roll
1 egg
2 tbsp wild garlic pesto
3 tablespoons of parmesan
Instructions
Take out the puff pastry half an hour before cutting it
Mix the Parmesan with the pesto in a bowl.
Crack the egg then incorporate it with the pesto
Unroll the puff pastry.
Cut out using a cookie cutter barely larger than the impressions.
Place a circle of puff pastry in each cavity.
Pierce the bottom of the mini pies with a fork.
Place a teaspoon of wild garlic Parmesan in each compartment.
Bake in a hot oven at 200 ° for 15 minutes.
Enjoy lukewarm.
Preparation time: 30 minutes
Cooking time: 15 minutes
Number of rooms: 20
4 star rating: 1 review
What wine to drink with: Wild garlic and parmesan puff pastry
My favorite wine for this recipe: Alsace Pinot blanc
Temperature between 08 ° and 12 °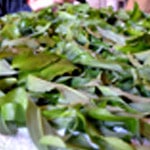 Wild garlic leaves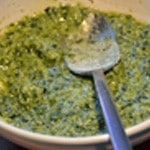 Mix wild garlic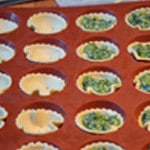 Lay the dough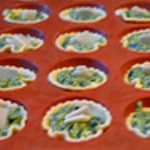 Fill the molds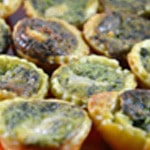 Zoom