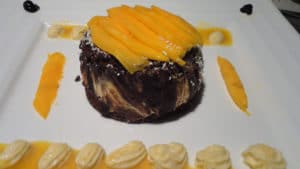 Chocolate Mango Cake Recipe
This soft chocolate cake to go up in individual part, intended for a dessert between friends, the mango will pull up this dessert you will love. . Mango cake, they marry wonderfully with chocolate, the strength of chocolate and the sweetness of mango. The color of the mango on a very dark chocolate, contrasts worthy of nature, I really loved it. The desserts whatever the meal tasted is always expected, I came a little late and I am very late, I will be testing thoroughly this year.
Chocolate and mango cake recipe for 4 people
Ingredients
130 gr of ground almonds
130 gr of dark chocolate
30 gr of flour
120 gr sugar
10 gr grams of white chocolate
5 eggs
50 gr of butter
1 sachet of baking powder
3 mangoes
15 cl of fluid cream.
Instructions
Peel the 2 mangoes to extract the juice and the flesh and put in a blender.
Make a syrup with 40 g of added sugar 3 g of agar agar, let cool and mix with the cream and the mango juice. Leave to rest in the fridge.
Separate 3 eggs from the whites of the yolks, beat the whites until stiff, add 40 gr of sugar.
Whisk the 2 eggs with the three yolks in a bowl, then add the almond powder, sugar and yeast.
Melt the chocolate and the butter in a bain-marie, add the cocoa, mix them all.
Put baking paper on a baking sheet, take circles and butter the inside; Pour your preparation up to half of your 3 circles. Go to
oven hot at 200 ° for 25 minutes.
Once your cookie is cold, cut your cake into 4 slices.
Line your mussels with baking paper.
Place the first circle of cake.
With a pocket, fill your circle with muslin on a height of 1 cm.
Place your second circle, tamp a little, with the pocket fill your circle with muslin on a height of 1 cm.
Place your third circle, tamp a little.
Turn out the circles and grate the white chocolate and coat your preparations.
Cut the mango into thin slices and cover the tops of your cakes.
It will be even softer if you do it the day before
I was inspired by the recipe of my friend Angélique
Preparation time: 300 minutes
Cooking time: 25 minutes
Number of people: 4
4 star rating: 1 review
What wine to drink with: Chocolate mango cake
My favorite wine for this Crémant du Jura Grape variety recipe: Savagnin blanc and Chardonay
Temperature between 7 ° and 8 °