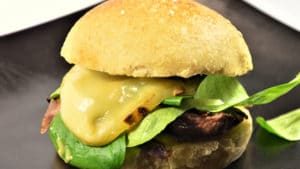 Duck Breast Hamburger Recipe
Summary : On the occasion of the wine tasting with home cooking fans, I always serve a dinner aperitif, this time for the meat, I chose a duck breast burger and a Béarnaise. Good! it's true Kiki came to give me a hand, we spent the day together, it was nice. Another way to taste a wonderful duck breast, we like this meat very much. There are several schools with burgers, I admit that I don't follow the rules too much, I make my burgers just by feeling; so everything depends on the moment, but I would say above all: who comes to eat. The fact of already baking your bread completely changes the situation, it is never dry, remains soft. On the other hand, I froze some once and frankly it was not at all conclusive, I will now manage to do just according to my needs. I will present you with other variations and even with fish.
Duck breast burger recipe for 10 people:
Ingredients
400 g of bun dough
2 duck breasts
100 g of aged Comté
20 cherry tomatoes
50 g lamb's lettuce
Instructions
Make the Buns according to the recipe.
Wash then wring out the lamb's lettuce.
Cut the old Comté into strips
Cut the fat from the duck without touching the flesh.
Place the duck skin side down in a cold pan.
Heat the pan.
Turn the duck over as soon as it has taken on a nice color, and sear it for 2 minutes.
Place the duck breast in a baking dish, finish cooking the duck breast for 10 minutes in the oven at 200 °
Lower the oven to 80 ° and reserve the duck breast in the oven.
Sear the cherry tomatoes cut in half in the pan and a little duck fat.
Then reserve in the oven.
Slice the buns in half.
Generously spread Béarnaise sauce on both buns.
Place the lamb's lettuce on the lower bun and the Béarnaise.
Cut the duck breast then place it on the lamb's lettuce.
Place 4 cherry tomato halves.
Finish with the Comté strips.
Close the burgers and enjoy without moderation.
Preparation time: 30 minutes
Cooking time: 10 minutes
Number of people: 10
4 star rating: 1 review
What wine to drink with: Duck breast burger
My favorite wine for this recipe: Bergerac rouge Cépage Cabernet Franc and Sauvignon, Merlot
Temperature between 16 ° and 17 °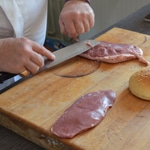 Garnish the magret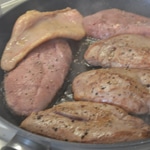 Sear the duck breast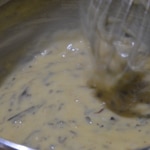 Prepare the béarnaise