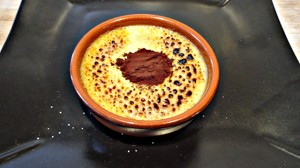 Recipe: Chocolate crème brûlée
Chocolate crème brûlée recipe, the clever mix of two desserts, everything that touches chocolate never leaves me indifferent. An easy-to-make chocolate crème brûlée recipe is really a dessert that pleases you, once the 'we master the cooking, it becomes an easy recipe. Take a torch for crème brûlée, cover the cream with brown sugar and gently burn the cream.
Recipe ingredients
Chocolate creme brulee recipe for 4 people
1/2 liter of liquid cream
3 egg yolks and 1 whole
90 g sugar
100 gr of 70% chocolate
4 tablespoons of brown sugar
Instructions
Pour the crème fraîche into a salad bowl.
Add the egg yolks then the whole egg, the sugar, whipped to mix well.
Divide into two equal portions
Heat the chocolate in a bain-marie.
Mix half of the cream mixture with the melted chocolate.
Pour the chocolate preparation into the ramekins, left to cool a little, in the refrigerator.
Finish with the natural cream part, pour it gently onto a large spoon, so that it does not mix with the chocolate.
Store in a baking dish in a bain-marie with cold water at the start, oven hot at 185 °, for ½ hour, be careful this is the hardest cooking in crème brûlée. It should never boil very hard, just a few air bubbles on the surface and your cream is ready.
Let cool and put in the fridge.
Before serving, distribute the brown sugar over the ramekins and burn the sugar with a blowtorch so that it caramelizes and faces a small crust.
Preparation time: 10 minutes
Cooking time: 30 minutes
Number of people: 4
5 star rating: 1 review

What wine to drink with: Chocolate crème brûlée

My favorite wine for this Alsace Pinot Gris recipe (Tokay)
Temperature between ° 11 and 12 °