Recipe: Confit fennel
Recipe confit fennel to accompany fish or white poultry, we loved these fennels which melt in your mouth. I confided them with balsamic vinegar, the vinegar gently came to flavor the fennel. Then confit in the oven with a little olive oil, the fennel will not leave you indifferent.
Recipe ingredients
Confit fennel recipe for 4 people:
4 fennel bulbs
1 teaspoon of coarse salt
3 tablespoons of balsamic vinegar
3 tablespoons of olive oil
1 teaspoon of brown sugar
3 turns of a pepper mill
Instructions
Cut the tails of the fennel bulbs.
Cut the bulbs in half.
Blanch for 25 minutes in boiling salted water and vinegar.
Store in a baking dish.
Sprinkle the brown sugar over the bulbs.
Pour the oil over the fennel.
Place in the oven for one hour at 180 ° rotating heat.
Drizzle after half an hour with the cooking oil;
Serve very hot as a garnish.
Preparation time: 20 minutes
Cooking time: 60 minutes
Number of people: 4
4 star rating: 1 review (s
What wine to drink with: Confit fennel
My favorite wine for this Alsace Edelzwicker recipe: Chasselas grape; Sylvaner; Riesling
Temperature between 08 ° and 10 °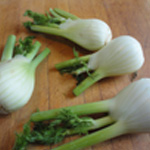 Cut green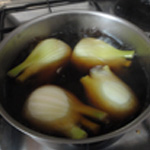 Blanch the bulbs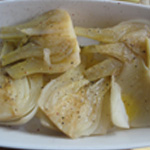 Bleached bulbs