Chocolate Macaron Recipe
Summary: The chocolate macaroon from the Château de Roche sur Linotte, a lesson with my friend Catherine, what a fun day. A chocolate macaroon recipe with a French meringue Gourmet macaroons for the enjoyment of the end of meals. You will find below how to make this chocolate macaroon, with an easy recipe For the ganache and to garnish the macaroon I chose dark chocolate, I particularly like its incomparable flavor. The chocolate macaroon for the pleasure of young and old, no one will resist this delicious treat. You can of course freeze them, then all you have to do is take them out, just when you prepare your coffee, a few minutes are enough.
Chocolate macaron recipe for 30 macarons
Ingredients :
100g egg whites
25g caster sugar
½ teaspoon of lemon juice
15 drops of food coloring
225g icing sugar
125g white almond powder
1 pinch of salt
For the chocolate filling
200ml of liquid fresh cream (min 30% fat)
180g dark chocolate (min 66% cocoa)
60g butter
Instructions
Separate the whites from the yolks. Store the whites in an airtight container at room temperature. They will be perfect for macaroons in 48 hours.
Mix then sift the ground almonds and the icing sugar.
Whip the egg whites with a pinch of salt, powdered sugar and lemon juice until they are firm. Then add the coloring.
Pour the sifted icing sugar / almond powder mixture over the snowy egg whites and mix with a spatula until you obtain a supple and shiny mixture.
On a sheet of baking paper, form small balls 3-4 cm in diameter using a pastry bag.
Lightly tap the baking sheet to release any air bubbles.
Let crust (dry) 30 minutes. The macaroons must be dry to the touch before baking
Bake at 150 ° C for 14 minutes.
Leave to cool after cooking before peeling off the macaroons.
Chop the chocolate. Bring the cream to a boil.
Pour the boiling cream over the chocolate in 2 batches then smooth with a spatula.
Gradually add the tempered butter and smooth the mixture.
Pour the ganache into a dish and let cool to room temperature.
When the shells are cold and the ganaches are ready to use, use a pastry bag to garnish half of the shells.
Assemble with a second shell and turn it to distribute the filling.
Place the macaroons in an airtight box and let rest in the refrigerator for at least 24 hours so that the macaroons become soft.
Preparation time: 120 minutes
Cooking time: 14 minutes
Number of people: 30 macaroons
4 star rating: 1 review
What wine to drink with: Chocolate Macaron Recipe
My favorite wine for this recipe Alsace Muscat Grape variety: White Muscat
Temperature between 7 ° and ° 10
Thanks to Catherine and Laetitia from Château de Roche for this course.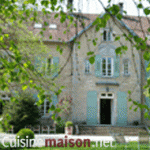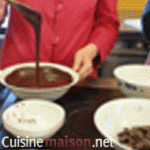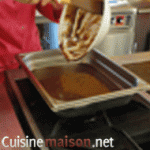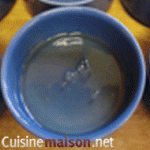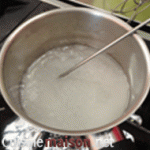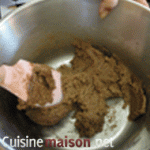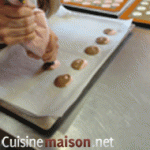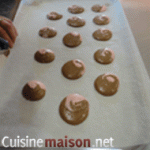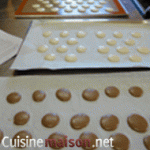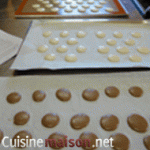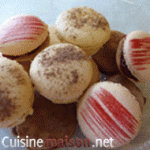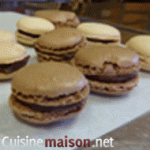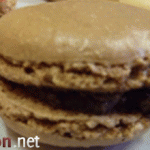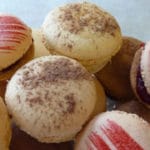 </p