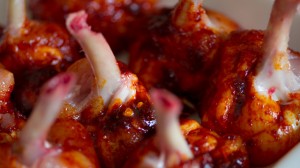 Recipe: Fiery Chicken Wings
Recipe for frenzied chicken wings, you can cook them either on the barbecue or in the oven. Chicken wings on the barbecue, a cheap meat that can be butchered. An easy barbecue chicken recipe. Chicken wing barbecue recipe with a frenzied sauce. Chicken wing with paprika and bird's eye chili, be careful, they take your breath away.
Recipe ingredients
Recipes Wild chicken wings for 4 people
24 chicken wings
1 teaspoon of paprika
½ teaspoon of hot pepper
3 bird's eye chillies
2 tablespoons of olive oil
Salt and pepper
Instructions
In a salad bowl put olive oil, paprika and hot pepper.
Crush the bird's eye peppers in a mortar, then add them to the paprika, salt and pepper and mix the preparation.
Cut the chicken wings at the lower level of the kneecap, the tendons will be released and the flesh will be easier to pull.
Remove the flesh from each wing using a knife to slide the flesh around the bone.
Round with the palm of your hand to give the meat a nice round shape.
Brush the chicken wings with the spicy preparation.
Bake on the barbecue, or in the oven at 200 ° for 15 minutes.
Preparation time: 15 minutes
Cooking time: 15 minutes
Number of people: 4
4 star rating: 1 review
What wine to drink with: Wild chicken wings
For this Rosé d'Anjou recipe Grape variety: Cabernet Franc and Cabernet Sauvignon.
Temperature between 10 ° and 12 °.
Thank you to the Rosabel store for his dishes & to my friend Thibaut Bouvier for all his photos