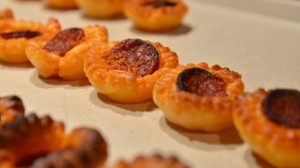 Recipe: Chorizo aperitif
Recipe Chorizo aperitif, canapes for aperitif with chorizo and Parmesan in beautiful colors, they will be tasted in a few warm minutes. Baked parmesan puff pastry, just before the aperitif. Canapes for aperitifs, kings of the aperitif can be prepared the day before and cooked as and when required. The chorizo will cook in the puff pastry and color it and delicately flavor the puff pastry.
Recipe ingredients
Chorizo aperitif recipe for 30 tarts:
½ strong chorizo
1 roll of puff pastry
100 g grated Parmesan
Instructions
Roll out the puff pastry.
Cut the tartlets with a cookie cutter.
Place the tart shells in the silicone molds.
Place a teaspoon of parmesan powder in each cell.
Slice the chorizo into thin slices.
Arrange each slice of chorizo on the Parmesan.
Stir hot at 180 ° for 8 to 10 minutes, without letting the chorizo toast.
Preparation time: 40 minutes
Cooking time: 10 minutes
Number of people: 30 mini tarts
4 star rating: 1 review
What wine to drink with: Chorizo aperitif
My favorite wine for this Burgundy Chardonnay recipe Grape variety: Chardonnay
Wine temperature between 11 ° and 13 °
Thanks to Thibaut for his photos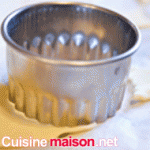 Cut circles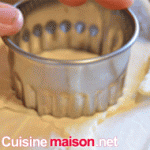 Tighten the circles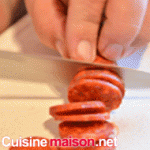 Slice the chorizo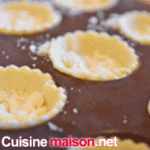 Add the parmesan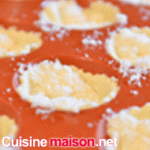 Place the chorizo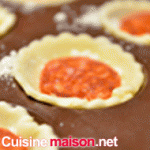 Zoom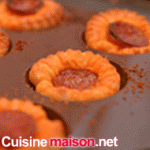 Unmould cold