Recipe: Chorizo Bites
Recipe for chorizo bites, here a recipe for chorizo mixed with Emmental, mini tarts that have been baked in the oven. For a dinner aperitif, an easy recipe that can be prepared the day before, all you have to do is cook the chorizo bites when the guests arrive. Chorizo pizza to start a meal, you can freeze leftovers for another invitation. Bites with chorizo, they do not stay long on the table.
Recipe ingredients
Chorizo Bites Recipe for: 50 mini bites
½ strong chorizo
2 tablespoons of cream
2 tablespoons of grated Emmental
1 roll of shortcrust pastry or puff pastry
10 cl of milk
10 cl of cream
100 gr of flour
60 gr of butter
2 eggs
Instructions
Remove the skin from the chorizo, then cut it roughly.
Mix the chorizo pieces with the cheese.
Melt the butter.
Break the eggs into a bowl.
Add milk and butter, then beat.
Add cream and mix.
Sift the flour then incorporate it into the preparation.
Cut out the circles for your molds.
Place the circles of dough in the molds.
Pour the preparation into each mold.
Bake in a hot oven at 180 ° for 15 minutes.
Let cool then unmold.
Preparation time: 20 minutes
Cooking time: 15 minutes
Number of people: 50 pieces
4 star rating: 1 review
What wine to drink with: Chorizo Bites
My favorite wine for this recipe Burgundy wine: Gamay grape, black Ginot
Temperature between 14 ° and 16 °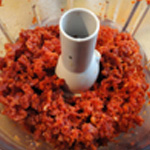 Mix the chorizo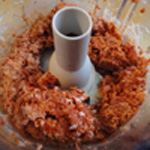 Add cheese