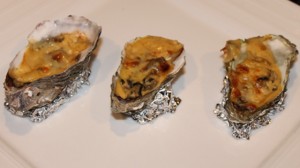 Recipe: Hot oysters with Monbazillac
Hot oysters recipe with monbazillac. Hot Oysters in the Oven for gratinating, with a hint of Comté, you will love this sweet and savory recipe. Hot oysters easy recipe, the advantage of this recipe you can prepare them the day before, just put them in the oven when your guests have arrived. Hot oysters au gratin with Comté. This hot oyster leek fondue recipe.
Recipe ingredients
Recipe Hot oysters in Monbazillac for 4 people
24 oysters (large n ° 2)
15 gr of butter
2 egg yolks
15 cl of liquid cream
1 leek white
15 cl of Monbazillac
2 shallots
1 gr of Espelette pepper
20 gr of Comté
Salt pepper
Instructions
Rinse the oysters under running water, then open them by collecting the water.
Store the oysters flat in their shells to scour off their second water.
Detach the oysters from their shells by collecting the water.
Pass the oyster water through a fine Chinese.
Cut the leek whites into julienne strips.
Slice the shallots
Heat your butter in a pan very slowly, melt the leek whites with the shallots, as soon as they are translucent, stop cooking.
In a saucepan, reduce the water in the oysters with the leeks and shallots.
Add the Monbazillac, salted and peppered.
Let your preparation reduce by half.
Add the cream in small doses while tasting.
Place the shells in a baking dish, make a small ball with aluminum foil and place the shell by pressing a little, it must be very stable and horizontal.
Place two strands of leeks, then the oyster in the shell, add a slice of Comté cut with a peeler, then a very small pinch of Espelette pepper.
Off the heat, add the two egg yolks to the Monbazillac reduction and mix with a whisk, fill each shell with the sabayon. Pass in a hot oven at 180 ° for 15 minutes as soon as the oysters are browned, stop and serve very hot.
Preparation time: 30 minutes
Cooking time: 15 minutes
Number of people: 4
4 star rating: 1 review
What wine to drink with: Hot oysters in Monbazillac
My favorite wine for this Riesling Grape variety: Riesling
Temperature between 08 ° and 10 °