Recipe: Roasted rabbit terrine with sour cherry juice
Recipe Roasted rabbit terrine with sour cherry juice, we loved this homemade terrine. Easy-to-make rabbit terrine, nothing like a homemade terrine for entertaining friends. This rabbit terrine recipe with brandy cherries. Marinate the terrine for at least one night, it will perfume and the alcohol gives the meat a different taste.
Recipe ingredients
Recipe Roasted rabbit terrine with sour cherry juice for 6 people:
800g of rabbit
0.400 gr of pork loin
0.150 gr of pork throats
300 g smoked bacon, thinly sliced
20 cherries in brandy
1 carrot
1 onion
1 clove of garlic
10 sprigs of fresh rosemary
13 gr of salt
3 g of pepper
15 cl of sour cherry juice
Instructions
Denervate and degrease the pork loin.
Bone the rabbit and cut it into small cubes while keeping a piece lengthwise.
Peel and slice the carrot.
Peel the onion and cut it into quarters.
Peel the garlic clove.
In a large salad bowl, place the meat cut into pieces, add the 10 sprigs of rosemary and the vegetables.
Cover with the sour cherry juice and 10 cl of white wine.
Film with cling film and place in the refrigerator for 24 hours or better 48 hours.
In a large salad bowl, chop your meat and throat as well as all the vegetables in the marinade.
Mix by hand, salt and pepper.
Add the cherries to the brandy, mix to distribute the fruits well.
Respecting the salt and pepper dosages is really important for the balance of your terrine.
Line the bottom of your terrine with the smoked bacon, letting a little overflow to cover the top.
Place the stuffing at the bottom, then a slice of rabbit, then the stuffing. Place the sprigs of rosemary on top of the terrine.
I used a number 2 terrine.
Once your terrine is well loaded, then pressed with your fist, close with the bacon bades.
Bake in a cold oven at the start, in a bain-marie for 1 hour 30 minutes at 150 °.
Preparation time: 40 minutes
Cooking time: 1 hour 30 minutes
Number of people: 6
4 star rating: 1 review
Which wine to drink with: roasted rabbit terrine with sour cherry juice
My favorite wine for this recipe: Corbières, Grape varieties: Carignan, Grenache noir, Cinsault
Temperature between 15 ° and 16 °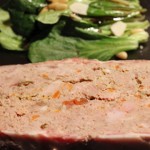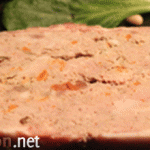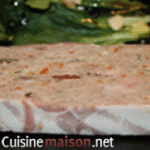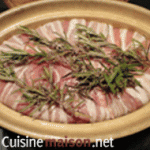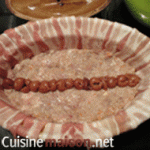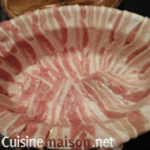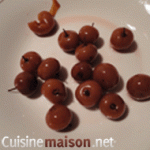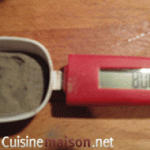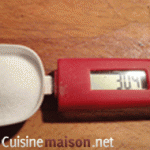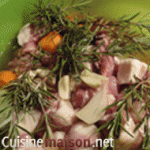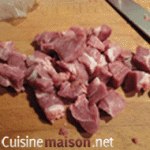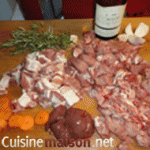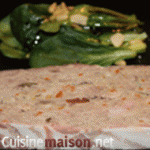 </p