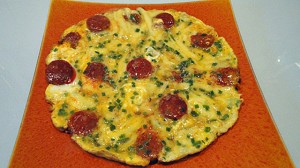 Recipe: Chorizo omelet
Chorizo omelet recipe, cook a few minutes and go to the table. I love making omelets when I'm home alone, there are so many possibilities it's a never ending story. Chorizo omelet, I also grated an old Jura county from Salin, which my brother had brought back to me. The chorizo as I like, cooked with this Spanish sausage fish, meat, vegetables. Chorizo omelet for a meal alone at home.
Recipe ingredients
Chorizo omelet recipe for 2 people
6 eggs
110 g county
100 g of chorizo
Instructions
Slice the chorizo regularly.
Heat the pan under a low heat.
Grill the chorizo without letting it burn.
Crack and beat the eggs in a bowl.
Salt and pepper.
Grate the Comté over the large holes in the grater.
Mix the Comté with the beaten eggs.
Cook the omelet in the pan with the chorizo slices.
Keep the omelet very runny.
Chorizo omelet for an evening when I was home alone. I added some Comté to finish my omelet, it was divine, I loved it.
Preparation time: 10 minutes
Cooking time: 4 to 5 minutes
Number of people: 2
4 star rating: 1 review
What wine to drink with: chorizo omelet
My favorite wine for this recipe: Bourgueil rouge Cépage Cabernet Franc; Cabernet Sauvignon
Temperature between 15 ° and 16 °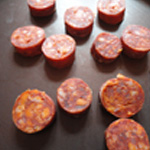 Sear the chorizo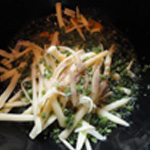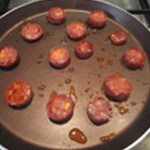 Flip the chorizo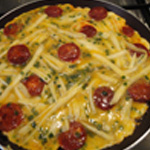 Spread the chorizo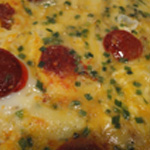 Keep the runny omelet