Chorizo Rillettes Recipe
Chorizo, this beautiful sausage from Spain, strong or soft, what a joy to work it, cooked or raw; it's still in my fridge. Chorizo rillettes: just to spread during an aperitif with friends; each guest will cover more or less their sandwiches according to their desires. You will love this recipe, of course, the taste will vary depending on the choice of strong or mild chorizo. For the aperitif I often prefer small sandwiches that each one will more or less garnish with Chorizo rillettes. For the taste, what I like about Chorizo is this color: this bright red that awakens all the colors in the kitchen. I chose a slightly dry white to accompany the Chorizo rillettes. Well I admit that my rillettes are quick to make, but it helps out for an unexpected arrival of friends and it's ready in a few minutes.
Chorizo rillettes recipe for 6 people
Ingredients :
½ strong or mild chorizo
¼ red onion
½ box of Saint Agur
Peppercorns
Instructions
Slice the chorizo into small cubes.
Peel then roughly chop the onion.
Roughly mix the chorizo with the onion.
Pour the preparation into a salad bowl.
Add the cheese to the chorizo step by step, mix and drain at each step.
Once satisfied with the flavor of your rillettes, Pepper.
Preparation time: 10 minutes
Cooking time: 0 minutes
Number of people: 6
4 star rating: 1 review
What wine to drink with: Rillettes de Chorizo
My favorite wine for this Toro recipe (Spain) Grape varieties: Tempranillo
Temperature between 15 ° and 16 °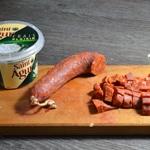 Ingredients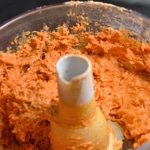 Mix the preparation