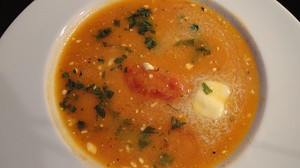 Recipe: Chorizo soup
Recipe chorizo soup or chorizo cream, a soup just a little spicy, we loved this little taste that lasts at the back of the throat. Strong or sweet chorizo, I love it hot or cold, it never leaves me indifferent. Chorizo spaghetti, chorizo pie chorizo paella, chorizo puff pastry, there is no shortage of kitchen versions for cooking chorizo. It's too cold, last night we decided to eat grrrrrrrrrr soup.

Recipe ingredients
Recipe Chorizo soup for 4 people
1 mild or strong chorizo
280 g of potatoes
1 small onion
1 clove of garlic
110 g cherry tomatoes
11 g chives
150 g of mozzarella in a ball, or 15 of cherries
Instructions
Slice the chorizo lengthwise 4 times, then into small cubes.
Peel the potatoes, slice them 4 times lengthwise, then into small cubes.
Peel the onion then cut it into small cubes.
Peel the garlic then mince it finely.
Brown the chorizo with the onions in a saucepan over low heat.
Add the garlic and let it toast a little.
Once the chorizo has rejected its fat, pour in the potatoes.
Grill the potatoes.
Wash the cherry tomatoes in plenty of water, then cut them in four, add them to the preparation.
Rinse the chives with plenty of water, cut them finely, pour ¾ into the soup, the rest is for decoration.
Let the soup cook for 30 minutes.
Finely mix the chorizo soup.
Sow the rest of the chives just before serving.
Add the mozzarella balls to the hot soup just before serving.
Preparation time: 20 minutes
Cooking time: 35 minutes
Number of people: 4
4 star rating: 1 review
What wine to drink with: Chorizo soup
My favorite wine for this recipe: Cahors Cépage Tannat; Cot black; Merlot
Temperature between 14 ° and 16 °
Cut lengthwise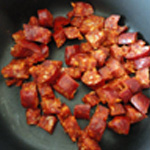 Then in cube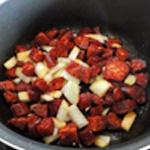 Sear Chorizo and onions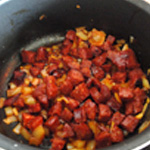 Grill well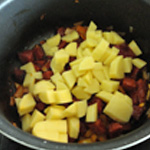 Add the potatoes