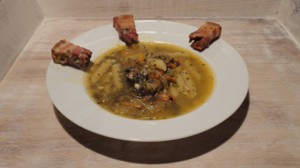 Recipe: Herbal soup
Herbal soup a real vegetable soup. This recipe for vegetable soups accompanied by some pasta or an Italian recipe for amateurs. I love Italian food. A soup with a lot of taste, a vegetable soup different from the great classics, you will be surprised by the aromas of this herbal soup.
Recipe ingredients
Recipe Herbal soup for 4 people
2 strips of smoked bacon
50 g basil
50 g parsley
50 g chives
120 g penne
1 carrot
1 stalk of celery
1 leek white
1 turnip
1 teaspoon of paprika
50 g of parmesan shavings
1 tomato
Salt and pepper
Instructions
Brown the smoked breast in a cast iron casserole dish under a low heat.
Let the breast color then turn it over and repeat the operation.
Rinse the vegetables then cut the leek and the celery stalk into small slices.
Cut the tomato into small squares.
Peel and cut the carrot and turnip into strips.
Remove the bacon when it has taken a nice color, brown the vegetables in its fat.
Cover with water, thinking that the cooking of the pasta will absorb some water.
Distribute the herbs, salt and pepper and simmer for an hour over low heat.
Cook the pasta just before serving, be careful not to saturate it with juice.
Serve by cutting a few slices of Parmesan.
Preparation time: 20 minutes
Cooking time: 60 minutes
Number of people: 4
4 star rating: 1 review
What wine to drink with Herbal Soup
My favorite wine for this Chianti (Italian) recipe Grape variety: Sangioves, canaiolo
Temperature between 15 ° and 16 °