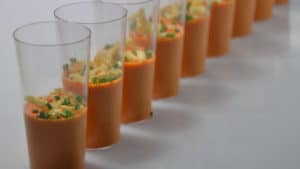 Chorizo verrine recipe
I really like chorizo: sweet, strong or extra strong I love them all, it lends itself to all the whims of cooking enthusiasts, its often very red color is ideal for contrasting dishes or verrines. But I also like its slightly spicy taste; this sausage, which comes to us from beyond the Pyrenees, I eat it hot or cold, raw or cooked. Here for my chorizo verrine, I added corn salad with nuts and lightly seasoned with sesame oil and of course some sesame seeds. A colorful verrine with a very tasty flavor, your guests will love this chorizo verrine. Chorizo appeared in the 16th century, it is today a flagship food of Spanish cuisine, originally it was only made of pork. Subsequently, beef was added to the mixture, and since then its composition has not changed; now it's up to you to go into the kitchen and make this chorizo verrine.
Recipe Verrine of chorizo for 10 verrines:
Ingredients
60 g grated Parmesan
150 g mild or strong chorizo
36 cl of cream
4 g of garlic
10 g shallot
10 sprigs of chives
Instructions
Cut the chorizo lengthwise.
Then cut it into small cubes
Heat the cream and pepper.
Add the chorizo and half the Parmesan and wait for the first broth then turn off the heat.
Let infuse 10 min
Mix the cream once infused, adding the garlic and shallot.
Pass through Chinese to eliminate the grains and have a very smooth texture, optional I like the pieces.
Mount your verrines when the cream is no longer smoking, so as not to leave a trace of steam on the verrines.
Let them rest overnight in the refrigerator.
Add the finely chopped chives to each verrine.
Place the rest of the Parmesan on a sheet of food paper and spend 5 minutes in the oven at 200 °.
Crush the grilled Parmesan and add it to the verrines.
What wine to drink with: Chorizo verrine
My favorite wine for this recipe: Crémant du Jura Cépage Chardonnay; Savagnin white
Temperature between 08 ° and 10 °
Let the chorizo infuse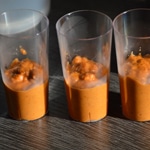 Pour into the verrine