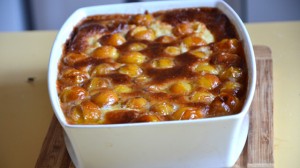 Recipe: Clafoutis Mirabelles
Recipe for clafoutis with plums, with plums from our orchard, this year the plums are abundant and well colored. As in Lorraine we have a lot of orchards with mirabelle plums, my village in Haute Saône Courchaton is the land of the mirabelle plum, of course in addition it distils in the village. I like this fruit when it is still on the tree and the branches are shaken to drop the ripe mirabelle plums on an old sheet. The clafoutis my favorite dessert of the summer, I like it more for dinner and with seasonal fruits, so a clafoutis with mirabelle plums for tonight.
Recipe ingredients
Clafoutis recipe with mirabelle plums for 8 people:
5 eggs
60 gr of flour
150 gr of powdered sugar
1 pinch of salt
20 cl liter of milk
20 cl of fluid cream
90 gr of butter
500 gr of mirabelle plums
1 sachet of vanilla sugar
Instructions
Rinse the mirabelles quickly then dry them.
Beat the eggs with the sugar until the mixture is white.
Add the sifted flour in rain, stirring constantly, until the mixture is smooth.
Melt 50 gr of butter in the microwave, then add it to the preparation.
Add the cream and then the milk.
Butter your clay mold with the rest of the butter.
Arrange your mirabelles at the bottom of the dish.
Cover with the dough you have prepared.
Sprinkle 60 gr of butter on the preparation
Bake in a hot oven at 200 °, on the lowest rack of the oven for 10 minutes.
Lower the oven to 180 ° and finish cooking for 40 minutes.
Take out of the oven at the end of cooking and distribute the vanilla sugar over the clafoutis.
Enjoy lukewarm.
Preparation time: 30 minutes
Cooking time: 40 minute (s)
Number of people: 8
4 star rating: 1 review
What wine to drink with: Clafoutis aux plums
My favorite wine for this Alsace Muscat Grape variety recipe: White Muscat.
Temperature between 07 ° and 10 °
Mirabelle plums on the tree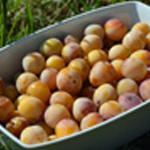 Mirabelles collected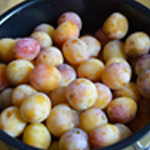 Focus on mirabelles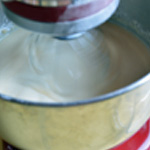 Mix the ingredients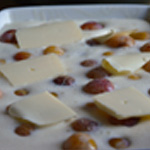 Butter before the oven