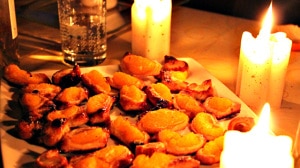 Recipe: Clementine tartlets
Clementine tart recipe, another way to indulge yourself with clementines, the puff pastry has caramelized around clementine supremes, a pie, a bite for everyone's pleasure. Clementines in winter are the queen of winter fruits, we like them juicy and slightly sweet, I love to bite into a quarter of clementine. You can also use this recipe for clementine tartlets for a dinner aperitif, they are perfect for this kind of meal.
Recipe ingredients
Clementine tartlet recipe for 6 people:
5 clementines
2 tablespoons of brown sugar
1 roll of puff pastry.
Instructions
Preheat the oven to 200 °.
Unroll the puff pastry on a sheet of baking paper.
Sprinkle generously with the first spoonful of brown sugar.
Lightly pass the roller over the sugar to make it enter the dough.
Put back in the refrigerator, the time to work the clementines.
Peel the clementines raw, be careful they are quite fragile.
Place a quarter of clementine on the puff pastry.
Leave a regular space between each quarter of clementine.
Cut with a knife between each quarter to delimit the tarts.
Place the quarters on a baking sheet lined with cling film.
Sprinkle the tarts with the rest of the brown sugar.
Bake in the lowest position of the oven, for about 15 minutes.
Let the tarts cool down before handling them, be careful the caramel is hot.
Preparation time: 20 minutes
Cooking time: 15 minutes
Number of people: 40 pieces
4 star rating: 1 review
What wine to drink with: Clementine tartlets
My favorite wine for this recipe: Riesling Late harvest Riesling grape
Temperature between 0 ° and 0 °
Thanks to Patrice for the photo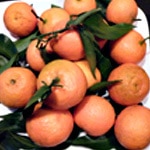 Cut the clementines raw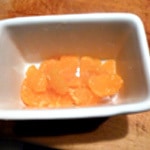 Clementine supreme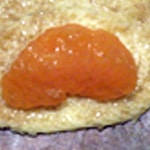 Place a supreme on the dough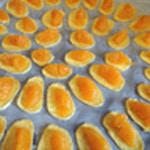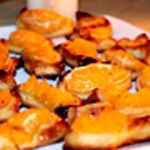 Zoom