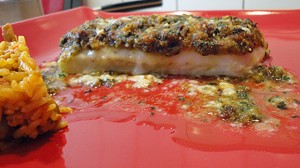 Recipe: Cod in a gingerbread crust
April Fool Cod recipe in a spicy crust. Recipe for cod back with a crust of gingerbread and hazelnuts, the fish will be slightly flavored. This recipe for cod back in the oven remains an easy recipe to make, just not too much cooking. I cook back cod in the oven with a gingerbread crust. A fresh or frozen cod back recipe.
Recipe ingredients
Cod recipe in a spiced crust for 4 people
600 g of cod fillet
100 g of gingerbread
80 g whole hazelnuts
1 bunch of parsley
100 g butter
1 clove of garlic
Salt and pepper.
Instructions
Rinse the fish in clean water, then dry it with food paper.
Wash the parsley and dry it with food paper.
Chop it with a knife for fun with the peeled clove of garlic.
Roughly cut the hazelnuts with a knife and mix with the parsley.
Mix the gingerbread and mix everything.
Add the soft butter, kneaded by hand.
Season the fish with salt and pepper.
Place the parsley stuffing on the fish to a thickness of about 1 cm.
Bake in a hot oven at 200 ° for 15 minutes.
Preparation time: 10 minutes
Cooking time: 15 minutes
Number of people: 4
4 star rating: 1 review
What wine to drink with: Cod in a gingerbread crust
My favorite wine for this Rasteau Grape variety recipe: Viognier
Temperature between 7 ° and 8 °