Sesame cod skewer recipe.
Instructions
Cod skewer cooked on the barbecue, I make my skewers with cod backs. I like to cook fish skewers on the barbecue be careful when cooking cod backs on skewers, cod skewers should not cook for too long. I alternated the cod skewer with a piece covered with sesame seeds and a piece of poppy seed.
Be careful if you find an important mistake in this text, thank you for pointing it out to me
Cod kebabs recipe with sesame for 4 people:
Ingredients
480g cod back
1 tablespoon of sesame seeds
1 tablespoon of poppy seeds
1 egg yolk
2 onions
1 green pepper
1 red pepper
Salt and pepper
Instructions
Rinse the fish and peppers in clean water.
Wipe the cod backs with absorbent paper.
Cut the cod backs into equal squares.
Peel the onions, then remove the peels.
Cut the peppers in half, remove the white part and slice them into squares.
Break and collect the egg yolk, salt and pepper.
Dip half of the cod in the egg yolk, then in the sesame seeds.
Dip in the egg yolk, the other half of the cod, then in the poppy seeds.
Assemble your skewers by starting with a piece of red pepper, then cod, green pepper, onion.
Alternate with sesame seeds and poppy seeds.
Cook on the barbecue for a few minutes, turning the skewers regularly, be careful not to overcook them.
Preparation time: 20 minutes
Cooking time: 10 minutes
Number of people: 4
4 star rating: 1 review
What wine to drink with: Cod skewer with sesame
My favorite wine for this recipe: Côte de Provence rosé. Grape variety: Syrah, Cinsault, Grenache noir.
Temperature between 8 ° and 10 °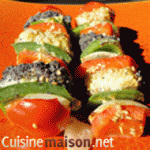 Presentation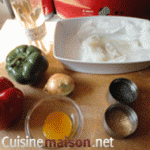 Ingredients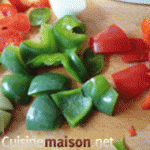 Cut the peppers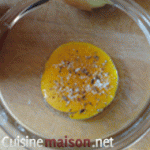 Salt and pepper the egg yolk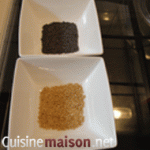 Poppy and sesame seeds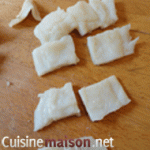 Cut the cod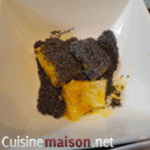 Dip in poppy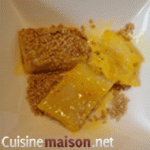 Dip in the yolk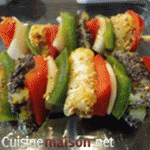 Skewers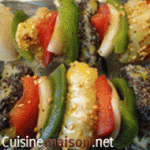 Cooked