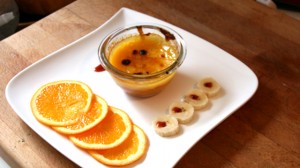 Recipe: Lemon verrine
Lemon verrine recipe, a recipe for the summer served cool this lemon verrine, will almost serve as a digestive, to consume without moderation. The base is still the traditional lemon tart, here available in a glass, just for fun. At home we love all the variations of the Lemon Pie, this lemon recipe looks like a lemon cream. Baking lemon in the oven. A very golden, very yellow cream.
Recipe ingredients
Recipe Lemon verrine for 6 people
6 to 8 verrines
3 eggs and 1 yolk
6 lemons
100g sugar
80 g butter
For the shortbread
125 g of type 45 flour
80 g butter
80 g icing sugar
1/2 teaspoon of salt
1 egg
Instructions
Sift your flour, mix the salt and the flour.
Cut your soft butter into a small square of 1 cm by 1 cm.
With your fingertips pass the butter on the flour and sand the dough until you get small chips.
Break your egg into a bowl, beat it with the sugar, mix and mill the dough to homogenize it. Be careful not to overwork the dough so as not to make it brittle.
Butter your verrines and distribute 1 cm of dough at the bottom, cook for 15 minutes in a hot oven at 180 °
Grate the zest of the 6 lemons with a fine grater, squeeze the juice from the lemons. Melt the butter in a saucepan. Break the eggs into a bowl, incorporate the sugar, melted butter, lemon juice and zest, whip this mixture rigorously. Pour your preparation over the verrines and bake for 30 minutes in the hot oven at 180 °
Lemon verrine easier than the lemon tart, more original, but the same taste of a little sweet lemon that develops and melts in the mouth.
Preparation time: 20 minutes
Cooking time: 15 minutes
Number of people: 6
4 star rating: 1 review
What wine to drink with: Lemon verrine

my favorite wine: Jurançon Cépage Gros Manseng; Little Manseng; Corbu white
Temperature between 06 ° and 08 °