Recipe for coq au vin jaune, I cut it in half because it was way too big, nice surprise when I lifted it, my butcher must have thought I had a regiment at home. Coq au vin jaune, here is a great recipe from my region of Franche Comté, normally it is made with morels, well I didn't have any on hand, but I also like porcini mushrooms. Coq au vin jaune, there are two schools: the first used at the beginning of Savagnin rather than yellow wine. The second one, which is mine, I have been using yellow wine for my rooster from the start, the sauce from this poultry is a killer, the plates come in almost cleaner than at the start of the meal. Coq au vin jaune you can serve with, if you have the means, yellow wine or (and it goes very well) a Savagnin d'Arbois; this wine with a lot of character will tame this devilish rooster. Coq au vin jaune recipe for 6 people:
Ingredients
1 yellow farm rooster
40 gr of dehydrated porcini mushrooms
75 cl of yellow wine
50 cl of liquid cream
50 gr of butter
2 shallots
1 tablespoon of flour
Instruction:
Cover the porcini mushrooms with lukewarm water.
Preheat the oven to 80 °.
Cut up the rooster or have it done by the butcher.
Cut the carcass in half lengthwise.
Grill the carcass already, color it well, then set aside.
Lightly flour the pieces of rooster
Sear the rooster in a casserole dish with the butter, without coloring it too much.
Remove the fat in the casserole dish.
Peel then finely chop the shallots.
Sear the shallots and porcini mushrooms in the casserole dish, without letting them color.
Add a quarter of the yellow wine and 10 cl of porcini water to the casserole dish, reduce to half.
Add the cream and the pieces of rooster.
Cook for about 3 hours, then add the rest of the yellow wine.
Cook for another 15 to 20 minutes, so that the rooster is cooked.
Reserve the rooster in the hot oven and let the sauce reduce, it should be very smooth.
Add the rooster at the end of the reduction and serve on hot plates.
Preparation time: 30 minutes
Cooking time: 3 hour (s)
Number of people: 6 people
4 star rating: 1 review
What wine to drink with: Coq au vin jaune
My favorite wine for this recipe: Savagnin yellow wine
Temperature between 15 ° and 16 °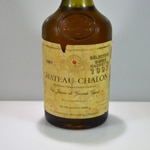 The bottle