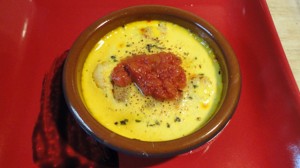 Recipe: Creme brulee recipe with scallops
Creme brulee recipe with scallops Baking scallops in the oven. Pan-fried scallops a few minutes before mounting your crème brûlée. Recipe for scallops, at home we crack as soon as I bring some. Scallop nut recipes, cooking here will take a bit longer for these sea ladies. Scallops in butter, then cooked with a preparation of crème brûlée.
Recipe ingredients
Recipe Creme brulee with scallops For 4 people:
8 beautiful scallops
8 small langoustines
1 tablespoon of coriander
3 egg yolks
0.06 gr of saffron
20 gr of butter
1 clove of garlic
1 egg
25 cl of milk
25 cl of fluid fresh cream
Salt and pepper
Instructions
Clean, wipe and chop the coriander with the finest possible knife, do not use a food processor in order to best release the aroma of the coriander.
Peel and chop the garlic.
Heat the milk with the cream and the coriander, salt and pepper once the mixture boils.
Add the egg yolks and the whole egg apart from the heat, stir gently.
Once ready add the saffron strands.
Cut the scallops.
In a hot pan, add the butter, brown the garlic then the cilantro, then throw in the scallops, let return for a few seconds, then set aside outside the pan.
Place the walnuts and scampi cut into pieces in the ramekins
Pour the cream into the ramekins and place in a hot oven at 140 ° for 30 minutes then let cool.
Do not serve this cream cold but lukewarm.
When leaving the oven, add the Parmesan and flambé with a blowtorch.
Preparation time: 10 minutes
Cooking time: 30 minutes
Number of people: 4
5 star rating: 1 review
What wine to drink with Creme Brulee with Scallops
My favorite wine for this recipe Champagne Grape varieties: Chardonnay and pinot noir  
Temperature between 7 ° and 12 °