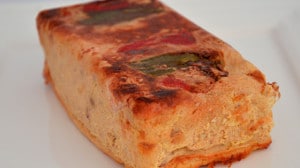 Recipe: Monkfish terrine
Monkfish terrine recipe for a nice fish starter. We used monkfish cheeks which were cheaper than whole monkfish. A deliciously scented terrine to be consumed cold or warm. I liked it cold with a little olive oil and fresh thyme sauce and a hint of lime juice. Monkfish terrine easy to make and ready in a few minutes, for everyone's pleasure, of course you can vary the fish.
Recipe ingredients
Monkfish terrine recipe for 12 people:
5 eggs
400 g of monkfish cheeks
250 g of salmon
30g butter
250g of liquid cream
2 teaspoons of fish stock
10 cl of white wine
1 clove of garlic
½ teaspoon of paprika
1 knife tip of ginger
2 drops of Tabasco
15g butter
1 tablespoon of olive oil
Salt and pepper
1 red pepper
1 green pepper
10 sprigs of chives
Instructions
Cook the peppers, after having oiled them with a brush, in the oven at 200 ° for 50 minutes.
Let the peppers cool, then peel them, this operation can be done the day before.
Rinse the monkfish cheeks and the salmon with clear water.
Then wipe with food paper.
Melt the butter in a pan with the oil.
Sear the monkfish cheeks and the salmon in the hot butter.
Add the garlic.
Pour in the white wine and let reduce for a few minutes.
Salt and pepper.
Reserve a few pieces of salmon.
Mix the rest.
Wipe the chives with a paper towel.
Finely slice the chives.
Beat the eggs with the cream and the spices.
Mix with the fish.
Garnish the mussels with strips of peppers.
Add the stuffing.
Place in a hot oven at 170 ° in a bain-marie for 40 minutes.
Eat cold or warm.
Preparation time: 20 minutes
Cooking time: 40 minutes
Number of people: 12
4 star rating: 1 review
What wine to drink with this monkfish terrine:
My favorite wine for this recipe Arbois blanc Grape variety: Savagnin, Chardonay blanc, Pinot blanc
Temperature between 10 ° and 12 °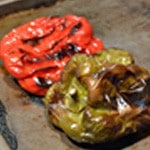 Cook the peppers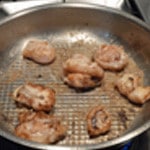 Seize the monkfish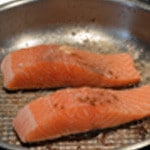 Cook the salmon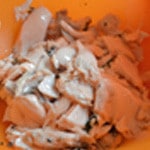 Strip the fish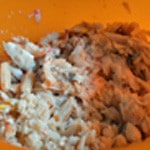 Add ingredients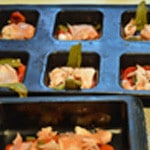 Fill the molds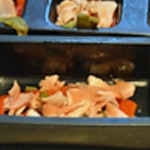 Start with the pepper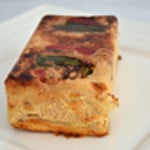 Zoom