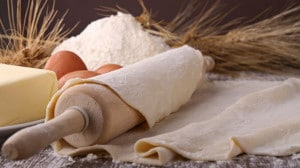 Recipe: Pie crust
Pie dough recipe, the real recipe of papi René. It took me almost 3 years to get it back, but then you'll see, it's dynamite, thank you René. A docile pie dough, which can be worked on, easy to roll out. I tell you, that happiness, frozen or fresh, extra fine it will remain crunchy. Ridiculously easy, this pie dough really deserves to make the effort not to buy industrial products anymore. Test there and you will be convinced. In any case, everyone here knows papi René's pie dough, he became famous for it, in the family of course…. What I liked above all, is that even very cold you can spread it. without difficulty and the second thing, no need to grease and flour the mold, is that happiness, I told you.
Recipe ingredients
Pie dough recipe for 1,700 dough, i.e. 5 to 6 pies:
1 kg of flour
500 g of margarine (golden fruit type or another brand)
20 to 25 cl of water
1 tablespoon of powdered sugar.
Instructions
Pour the flour and sugar into a bowl.
Cut the margarine into small cubes.
Add to the flour.
Break with your fingertips, as for a shortbread dough.
Gradually add water to obtain the desired consistency.
Film the dough, it can stay a week in the refrigerator.
Cut there into portions of 250 g to 300 gr depending on your sheet, then store in the freezer.
Preparation time: 20 minute (s)
Cooking time: 0 minute (s)
Number of people: 6 pies
4 star rating: 1 review
What wine to drink with: Pie crust
Everything will depend on the chosen fruit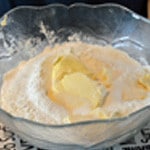 Add the fat to the flour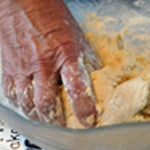 Knead by hand