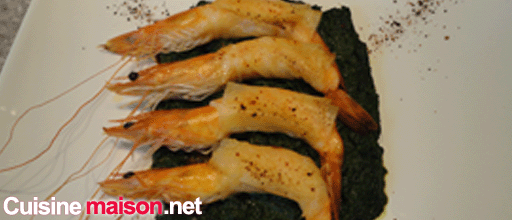 Recipe Crispy prawns with spinach
Summary : Crispy prawns with spinach on a bed of spinach, the crispy prawns baked in the oven for just a few minutes, a nice recipe that these prawns with spinach for our dinner. When preparing the prawns, keep your head with the body of the prawns just for fun. To change the taste, honey prawns always cook with their crispiness that prevents them from drying out. An easy recipe for Crispy prawns with spinach, the crispy prawns to be prepared in a few minutes, roasted in the oven the prawns will keep all their flavors. The crispy prawns a starter for the holidays, a low budget starter. We loved these Crispy prawns with spinach
Crispy prawns with spinach recipe for 4 people
Ingredients :
400 g spinach
2 shallots
1 tablespoon of olive oil
20 cl of fluid cream
16 prawns
4 pastry sheets
Instructions
Preheat the oven to 200 °
Peel the prawns, keeping the heads and the last section of the tail
Peel the shallots and brown them with olive oil.
Add the spinach and cook gently.
Pour the cream over the spinach
Let reduce a little more.
Cut the brick pastry sheets into 3 cm strips, 4 per sheet
Butter the pastry sheets.
Butter the prawns.
Wrap the prawns with the buttered strip.
Place the spinach in a baking dish.
Place the prawns dressed in pastry sheets on the spinach.
Place in a hot oven for 6 minutes.
Preparation time: 20 minutes
Cooking time: 6 to 8 minutes
Number of people: 4
4 star rating: 1 review
What wine to drink with: Crispy prawns with spinach
My favorite wine for this recipe: Crémant du jura Grape variety: Chardonnay, Savagnin
Temperature between 8 ° and 9 °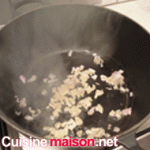 Sweat the shallots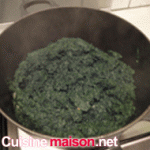 Throw in the spinach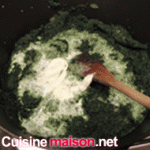 Add the cream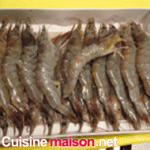 Raw prawns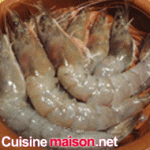 Gambas ready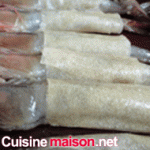 Brick sheets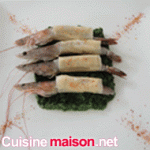 Ready to cook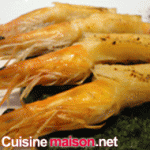 Cooked