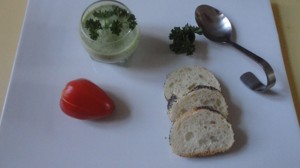 Recipe: Cucumber gazpacho
Recipe gazpacho cucumber, they arrive on the markets of beautiful plump cucumbers, full of water and flesh. Cucumber soup for a lunch under the sun, fresh it will refresh you during these days at more than 30 °. Perfumed with mint this gazpacho recipe with cucumber and lemon will not leave anyone indifferent. Gazpacho cucumber a pure product of Spain of course you should use sherry vinegar to stay in the tradition.
Recipe ingredients
Cucumber gazpacho recipe for 4 people:
1 large cucumber
½ potato
1 lemon
¼ of a bunch of parsley
100 g of feta
2 tablespoons of cottage cheese
4 tablespoons of sherry vinegar
1 tablespoon chopped parsley
2 tablespoons of olive oil
1 pinch of Espelette pepper
Salt and pepper
Instructions
Rinse the vegetables and parsley with plenty of water.
Stem the parsley
Peel the cucumber.
Roughly chop the cucumber, then mix it with the parsley.
Crumble the feta on the cucumber, then mix there.
Roughly chop the baked potato and mint, then mix them.
Add the oil and vinegar and cottage cheese.
Salt and pepper
Taste and correct the necessary gazpacho.
Place in the refrigerator for at least two hours.
Preparation time: 10 minutes
Cooking time: 0 minutes
Number of people: 4
4 star rating: 1 review
What wine to drink with: Gazpacho cucumber
My favorite wine for this Rioja recipe: Tempranillo grape
Temperature between 15 ° and 16 °