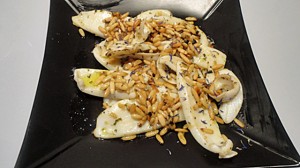 Recipe: Cuttlefish breast
Recipe for cuttlefish white cook in a pan, you will cook them for a few minutes so that they remain tender. The cuttlefish is fairly easy to prepare, starting with an intense black to finish with an almost immaculate white. The next cuttlefish recipe will be on the barbecue with the arrival of the beautiful days. We are spoiled in Vesoul, our supermarket organizes an auction sale every Tuesday, happiness there is always plenty of fresh fish available. Cuttlefish white, to change a bit from classic fish.
Recipe ingredients
White cuttlefish recipe for 3 people:
Cuttlefish
3 garlic
12 basil leaves
60 g pine nuts
75 g butter
1 tablespoon of olive oil
Some dried blueberry flowers for decoration
½ Lemon
Instructions
Rinse the cuttlefish with plenty of water.
Start with the head, unhook there.
Empty the cuttlefish, trying to recover the ink bag.
Remove the flat bone.
Rinse under the tap, the cuttlefish should no longer have any traces of ink.
Cut into large strips.
Slightly score the strips.
Rinse the basil, then dry it with clinging paper.
Peel and cut the garlic.
Finely chop the garlic with the basil.
Heat the pan with the butter.
Add the garlic to the basil.
Sear the cuttlefish in the pan.
Cook the cuttlefish for 5 to 6 minutes.
Drizzle with butter while cooking.
Serve on hot plates.
Preparation time: 10 minutes
Cooking time: 5 to 6 minutes
Number of people: 3
4 star rating: 1 reviewsNumber of people: 3
What wine to drink with: Cuttlefish white
My favorite wine for this recipe: Bellet blanc Cépage Vermentino; Chardonnay
Temperature between 08 ° and 10 °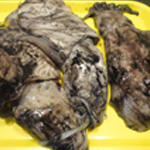 Rinse out ink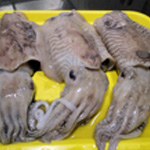 Trim the cuttlefish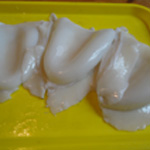 Cuttlefish ready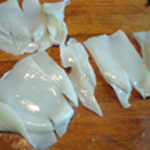 Cut the cuttlefish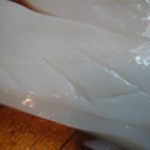 Streak the cuttlefish
Finely chop the herbs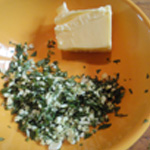 Add the butter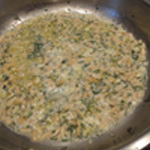 Seize the herbs