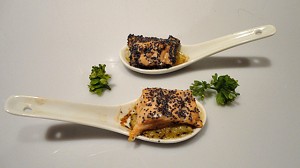 Recipe: Spoon of salmon
Recipe for a salmon spoon, ideal for a dinner aperitif, these small spoons should be served hot. Here is a recipe that changes the recipe for salmon in a verrine, the leek fondue goes very well with the salmon, 10 minutes in the oven and it's ready. Aperitif recipe with a leek fondue and a salmon cube, to change from classic aperitif cakes. Spoonful of salmon to start our fish meal, we loved this salmon to start our meal.
Recipe ingredients
Recipe Spoon of salmon: for 4 people
1 salmon steak
1 leek
30g butter
4 teaspoons of liquid cream.
1 teaspoon of coarse salt
Salt and pepper.
Instructions
Rinse the salmon with clear water.
Wipe the salmon with food paper.
Place the salmon on absorbent food paper.
Remove the green parts of the leek, keep only the white.
Cut the leek in half.
Finely slice the leeks lengthwise.
Heat salted water in a saucepan, as soon as the first bubbles appear, add the leek and simmer for 2 minutes.
Pass in a Chinese.
Place the leeks on a paper towel to dry them a little.
Heat 30 g of butter in a pan then throw in the salted and peppered leeks, cook gently for 5 minutes.
Pour the leek fondue into the porcelain spoons.
Cut the salmon into small equal cubes.
Place a cube of salmon without each spoon.
Season the nuts with salt and pepper.
Place in a hot oven at 200 ° for 8 minutes.
Eat lukewarm, let the spoons cool a little so that your guests do not burn themselves.
Preparation time: 15 minutes
Number of people: 4
Cooking time: 08 minutes
4 star rating: 1 review
What wine to drink with: Spoon of salmon
My favorite wine for this recipe: Cote de Beaune blanc Grape variety: Chardonnay
Temperature between 08 ° and 10 °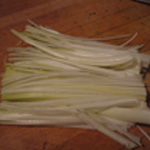 Slice the leeks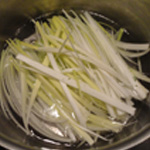 Rinse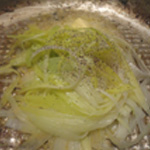 Sear in the butter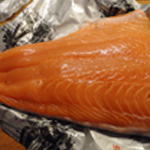 Cut the salmon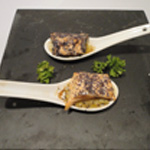 Cooked