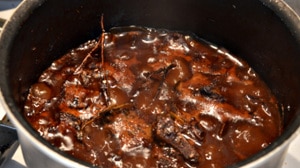 Recipe: Grand veneur sauce
Grand veneur sauce recipe, ideal to accompany your game. You will finish cooking your grand veneur sauce by playing with the currant, but some people do not hesitate to add one or two squares of quality dark chocolate. What is certain, this sauce has been used with noble pieces of venison for a few centuries now. I love her, she has character and never goes unnoticed, only fun!
Recipe ingredients
Grand veneur sauce recipe for 6 people:
Roe deer rib adornments
50 cl of red Madiran red wine
4 shallots
3 garlic
1 tablespoon of redcurrant jelly
2 tablespoons of powdered brown stock
1 tablespoon of tomato paste
1 tablespoon of olive oil
Instructions
Sear the trimmings with the shallots and garlic in olive oil.
Add the jelly and the brown stock.
Pour the wine.
Add a glass of water.
Add the spoonful of tomato paste
Simmer the sauce for an hour, without covering it.
Add the jam.
Reduce the sauce by half.
Keep the sauce warm in a double boiler.
Preparation time: 35 minutes
Cooking time: 25 minutes
Number of people: 6
4 star rating: 1 review
What wine to drink with: Grand veneur sauce
My favorite wine for this recipe: Madiran red Cépage Tannat, Cabernet Franc and Sauvignon
Temperature between 16 ° and 17 °
Thanks to Kiki for this recipe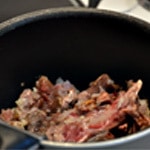 Grill the bones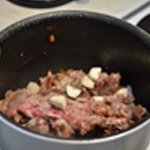 Add garlic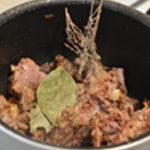 Add the aromatics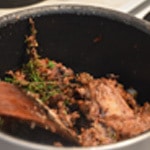 Wet with wine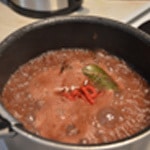 Let it be for now