Morteau recipe with the Jura coast
Instructions
Morteau sausage recipe on the Jura coast with a side of jura chardonnay to enhance your sauce linked with this wine. Morteau sausage recipe accompanied with potatoes, an easy recipe for an evening meal. Of course at home we are all very fond of Morteau but it is above all a product from Franche Comté. The pigs are raised in our Jura mountains. You will find defois of the blades copies, always check that the Morteau sausages have the stamp, which characterizes the origin of the sausage. With your Morteau au Jura a few potatoes and a nice green salad.
Morteau recipes on the Jura coast for 4 people
Ingredients
1 Morteau
4 shallots
25g butter
25 cl of fluid cream
25 cl of cote du jura blanc
Salt and pepper
Instructions
Cook the Morteau sausage without pricking it for 20 minutes with simmering water.
Peel and slice the shallots.
Heat the butter in a saucepan with a large bottom.
Sear the shallots in the butter.
Cover with the white wine and let reduce.
Add the crème fraîche and let reduce another three quarters.
Just before serving add a little wine, to get the typical taste of the wine.
Slice the Morteau sausage and place it on a dish, then pour the sauce over the sausage.
Preparation time: 25 minutes
Number of people: 4
Cooking time: 20 minutes
4 star rating: 1 review
What wine to drink with: Morteau au côte du Jura
My favorite wine for this Cote du Jura white recipe Grape variety: Savagnin; Chardonnay, Pinot blanc
Temperature between 11 ° and 12 °
Thank you to Rosabel de Vesoul store for its dishes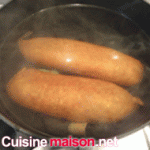 Cook the sausage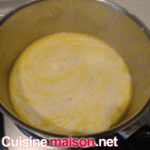 Reduce cream and wine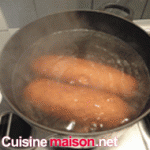 Cook for 20 minutes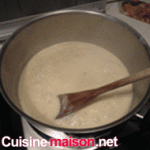 Let reduce by half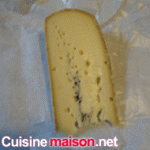 Add the morbier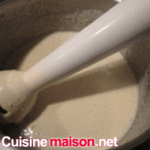 Mix the sauce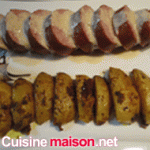 On plate