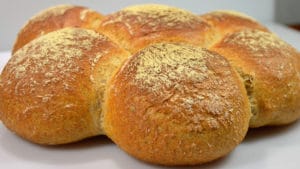 It's my favorite bread that this beautiful daisy, an Ardèche recipe or this bread is almost an institution, lightly floured, we devoured it in no time. I like the smells in the house while baking breads, but I also really like all the preparation save over several hours, because the sprouting is an important moment for the bread. Of course, the choice of your flours will have a significant impact on the quality of your homemade breads. I find it practical that a daisy, you have people and everyone will directly have a bun, they will love this daisy.
Recipe of daisy breads of approximately 470 gr:
Ingredients
50 g rye flour
450 gr of type 65 wheat flour
320 gr of water at 20 °
100 gr of liquid sourdough
4 gr fresh baker's yeast
10 gr of salt
Instructions
Preheat the oven to 230 °, after placing the rack in the low position.
Add all the ingredients to the mixer bowl fitted with the hook.
Mix 4 minutes at low speed, then mix again for 7 minutes at high speed.
Flour the work surface.
Form a ball and let it grow for 1 hour covered with a damp cloth.
Fold sides inside after 30 minutes, then let stand another 30 minutes.
Divide the ball into 14 pieces of approximately 65 g.
Cover with a damp cloth and let stand for 15 minutes.
Roll the dough pieces to give them a nice round shape.
Place the 7 balls on a baking sheet covered with parchment paper, solder underneath.
Moisten the balls or they will touch each other (optional).
Flour the top of the daisy.
Cover with the tea towel and let rise for 1 hour 30 minutes.
Bake in the hot oven for 15 minutes.
At the same time, pour 5 cl of water into the bottom plate, close the oven door.
Preparation time: 11 minutes
Cooking time: 15 minutes
Number of people: 2 daisies
4 star rating: 1 review
What wine to drink with: Marguerite
No particular wine with this recipe, because it is the dish that will define the wine.
Source: Le Larousse du pain by Eric Kayser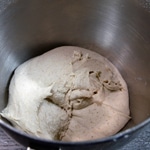 Mix the ingredients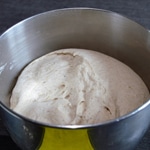 Let it grow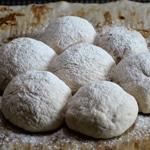 Glue the balls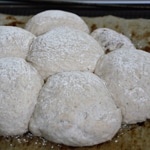 Lightly flour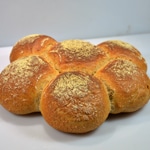 Cooked daisy