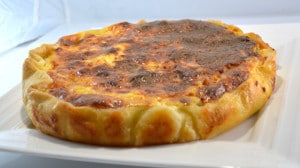 Recipe: Zucchini quiche
Zucchini quiche recipe as we are greedy at home, we added small bacon and some tomatoes. A very rich quiche, it was excellent I accompanied it with a small green salad. The pre-baked zucchini, almost a little candied, had the advantage of yielding very little water. In addition it was a zucchini from Grandma Ginette. An ideal evening meal, this zucchini quiche is sufficient as a complete meal. Zucchini are plentiful right now and recipes are bursting with the blogosphere. We cook them in all forms and even in puff pastry for the aperitif.
Recipe ingredients
Zucchini quiche recipe for 6 people:
1 roll of puff pastry
300 gr of smoked bacon
1 zucchini of 500g
½ tomato
½ onion
250g of sour cream
250g of mascarpone
2 eggs
Instructions
Preheat the oven in convection heat to 190 °
Cut the zucchini into slices then into quarters without peeling it and keeping the middle.
Place the zucchini in a baking sheet, drizzle the zucchini with olive oil.
Salt and pepper
Bake for 20 minutes at 190 ° rotating heat.
Roll out the dough in a high mold, missing mold.
Prick the dough.
Add the cooked zucchini then the bacon.
Cut the tomatoes and onions into small cubes then add on the bacon.
Mix the cream with the mascarpone and the eggs.
Pour directly over the vegetables.
Bake for 45 minutes in the hot oven.
Preparation time: 20 minute (s)
Cooking time: 20 minute (s)
Number of people: 20
4 star rating: 1 review
What wine to drink with: Zucchini quiche
My favorite wine for this recipe: Rasteau rouge Grape variety: Syrah, Grenache noir, Cinsault
Temperature between 17 ° and 18 °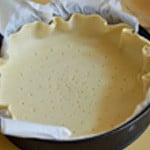 Arrange the dough
Add the pre-cooked zucchini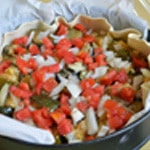 Then the peppers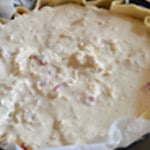 Pour the device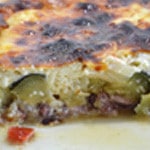 Zoom