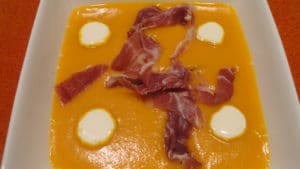 Summary: Pumpkin soup a delicious and very tasty soup idea, it is smooth, no pure cream is needed for this soup. A seasonal soup with pumpkins from the garden. A pumpkin soup for a hot soup. Pumpkin soup for the Halloween parties, this pumpkin soup with a very smooth orange color, it will be the start of the Halloween parties. The Halloween witch's favorite pumpkin soup in the woods or in your cottages this pumpkin soup will be devoured by all. Pumpkin potato soup, no need to peel the pumpkin, cook directly with the skin on, this is the little secret of the Halloween witch.
Pumpkin soup recipe for 4 people:
Ingredients
1 Pumpkin
2 potatoes
1 onion
1 small tomato
1 clove of garlic
15 cl of cream for decoration
Instructions
Peel the pumpkin, reserving the seeds, cut it into small squares.
Peel and cut the potatoes into small pieces.
Peel and cut the onion into small squares.
Peel and crush the garlic then heat a saucepan with a spoon of olive oil.
Add the onion and garlic, heat until they are translucent.
Grill the pumpkin, stir with a wooden spoon.
Add all the vegetables and season with salt and pepper.
Cover with water and cook for 40 minutes at low broth.
Remove some of the juice before grinding and gradually add the liquid, in order to have a dense soup.
Sprinkle with raw ham before serving.
A very noble soup here, the pumpkin will give us a slightly sweet but very creamy soup. A seasonal soup with produce from the garden.
Preparation time: 10 minutes
Cooking time: 40 minutes
Number of people: 4
4 star rating: 1 review
What wine to drink with: Pumpkin soup
My favorite wine for this Côte de Beaune Grape Pinot Noir recipe
Temperature between 11 ° and 13 °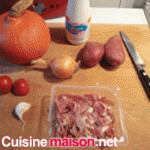 Ingredients
Cut the pumpkin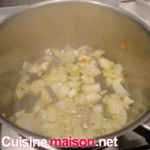 Sear the onion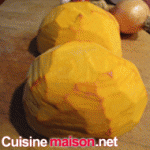 Peel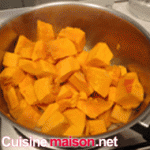 Sear the pumpkin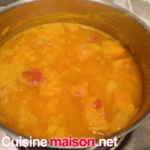 Cover with water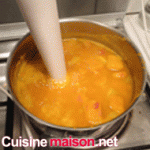 Go to the blender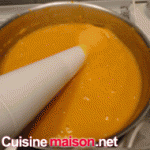 Smooth soup