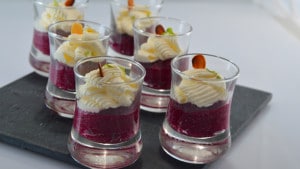 Hot red beets recipe
Spicy red beet recipe, I already like red beets for their tastes and especially for their colors, in addition in verrines, they lend themselves to all our fantasies. As they sting a bit, I served them with a salted whipped cream. When cooked in the oven, its taste is amplified and its aromas are longer in the mouth, barely sweet they particularly appeal to children. Its incomparable red makes it almost essential for a dinner aperitif. It's granny Ginette's beets again, straight from Fallon's garden, this time it's still in the spotlight on home cooking with this spicy red beet. Of course for this meal, they were served as an aperitif with rillettes of pink Pacific salmon, with red beets just a very small dose, because the meal was generous.
Recipe ingredients:
Spicy red beets recipe for 10 people:
Red beets
small onion
4 tablespoons of liquid cream
1 tablespoon of Madeira balsamic vinegar
1 teaspoon of fine salt
½ teaspoon ground pepper
1 knife tip of ground ginger
1 teaspoon of Espelette pepper
150 gr of liquid cream and salt
Instructions
Peel the beets, then cut them into cubes.
Lightly oil aluminum foil.
Place the beetroot quarters on the oiled part.
Season with pepper and add the Espelette pepper and ginger.
Close the aluminum foil, taking care that the foil is waterproof.
Bake in an oven at 130 ° for one hour.
Mix the onion with the cooked beets.
Add the cream, then the vinegar.
Salt and mix until the appliance is smooth.
Pour into a piping bag, then directly into the verrines.
Reserve in the fridge.
Assemble the whipped cream, salt and pepper once mounted.
Pour into a piping bag, then directly into the verrines.
Keep in cool until serving.
Preparation time: 20 minutes
Cooking time: 60 minutes
Number of people: 10 people
4 star rating: 1 review
What wine to drink with: Hot red beets
My favorite wine for this recipe: White Burgundy Chardonay Grape Chardonnay
Temperature between 08 ° and 10 °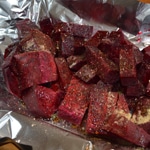 Cook the beetroot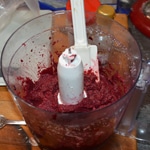 Mix the beetroot