Lentils recipe, Daniele style
Summary: Today I present to you a nice way to make lenses. Here, it is Florence's mother, a friend, who leads the pace. She has a very traditional approach to cooking and nothing scares her, so I have fairly strict instructions to follow to make these Danièle-style Lentils. You can immediately feel his love for the perfect cuisine, but it is his experience and his safety that impresses me the most. I now understand better Florence's ease in her cooking. I must admit that I am having Easter at Danièle's and I expect great discoveries. I really liked this way of cooking these Danièle-style lentils. This recipe is quite easy to make, but they are for enthusiasts who want to surpass themselves every time in everything… Very beautiful Danièle-style lentils.
Lentils recipe Daniele style for 6 people
Ingredients
400 g of cooking lentils
1 onion
2 shallots
2 cloves garlic
70 g smoked bacon
½ lemon
15 cl of cream
Salt and peppercorns
1 large tablespoon of flour
2 cloves and 2 bay leaves
1 tablespoon of olive oil
Instructions
Cook the lentils in 4 times their volume of cold water.
Peel the shallots, prick with the cloves and bay leaf, then add them to the lentils.
Leave to cook for the time indicated on the package, less 5 minutes, and test them: the lentils must remain firm.
Drain at the end of cooking, reserving the cooking water to make a soup.
Peel then finely slice the onion.
Peel then chop the garlic cloves.
Slice the smoked bacon into small cubes.
Heat the olive oil, then add bacon and onions.
Add the chopped garlic once the onions are golden brown.
Sprinkle with the flour and let brown while stirring.
Add 15 cl of broth and cook for 15 minutes.
Stop cooking as soon as the sauce has thickened.
Add the lentils, then season with salt and pepper.
Cover and cook for 5 minutes.
Add the cream and lemon juice just before serving.
Preparation time: 20 minutes
Cooking time: 20 minutes (+ lentil time)
Number of people: 6
4 star rating: 1 review
Which wine to drink with: Recipe Danièle style lentils
My favorite wine for this Anjou Gamay Grape variety recipe: Gamay
Temperature between 11 ° and 13 °
Prepare the ingredients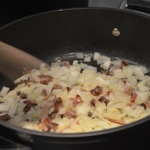 Sear the onions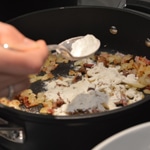 Add flour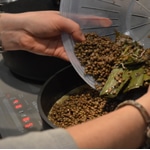 Add the lentils
Add water